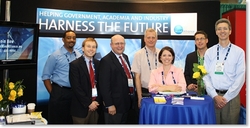 "We congratulate NIRE and Texas Tech University for the development of this innovative ecosystem of activity that will benefit our nation and for it's well deserved support and funding from the state of Texas."
Houston, TX (PRWEB) July 27, 2010
Texas Governor Rick Perry announced that $8.4 million from the Texas Emerging Technology Fund (TETF) will be awarded to the National Institute for Renewable Energy (NIRE) and Texas Tech University . The grant allows NIRE, a non-profit, public/private collaboration and partner of The Wind Alliance, to help solve key scientific and technology issues facing the wind power industry.
Funding provided to NIRE will be used to design, construct and operate research wind farms, and sell the power generated in the commercial marketplace to fund a non-profit research center. NIRE will also provide services to industry partners and offer an industry consortium, which will be managed by The Wind Alliance. Texas Tech and its wind research organizations will receive $6.4 million of the award, while NIRE will receive $2 million.
Gov. Perry said. "This TETF investment will ensure that Texas can continue to add wind capacity and prepare to connect wind farms to the grid and our major cities, helping address the growing energy needs of a population that is expanding by about 1,000 people per day."
Wind power projects have the potential to create thousands of new jobs in rural communities in manufacturing, transportation and construction of projects. When combined with other forms of energy, wind power expands energy independence and extends Texas' global energy leadership.
Two significant private-sector partners of NIRE include Vestas Wind Systems, a leader in the wind sector with more than 40,000 turbines deployed worldwide, and Alstom Power Inc., a global leader in power generation. "We are excited to see our industry and academic members (Vestas, Alstom and Texas Tech University) working together to create jobs and discover next generation technology that will radically impact and accelerate the U.S. wind industry," said Claire Henkhaus, Associate Director of The Wind Alliance. "This is a real world example of our mission."
John D. White, Managing Director of The Wind Alliance, commented "We congratulate NIRE and Texas Tech University for the development of this innovative ecosystem of activity that will benefit our nation and for it's well deserved support and funding from the state of Texas."
The Wind Alliance (TWA) is an established collection of industrial, academic and public-sector entities that collaboratively focus on continuous pre-competitive improvement of workforce, infrastructure and technology within the U.S. wind industry. TWA is made up of first-class, innovative project developers, economic development corporations, non-governmental public organizations, manufacturers and developers of advanced technology and technical research organizations. Members have well established working relationships through the execution of previous projects and access to an unparalleled collection of physical assets and technical capabilities. Headquartered in Houston, Texas, TWA is a 501(c)(3) non-profit organization.
For more information contact: Claire Henkhaus, Associate Director, (713) 600-9994
###