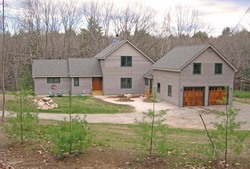 Claremont, NH (PRWEB) July 28, 2010
Davis Frame Company, Inc. timber frame home designer and manufacturer located in Claremont, New Hampshire is proud to announce they will be hosting their summer timber frame open house event in Coastal York, Maine.
The timber frame event will be held at Dream Timber Frame Homes, Davis Frame Company' Southern New Hampshire and Coastal Maine Independent Representatives. The Dewey's, owners of Dream Timber Frame Homes first started out as Davis Frame clients and recently decided to represent Davis Frame Company earlier this year due to the quality and personal service they received from the company when they built their new timber frame home.
The open house will be open to the public and held on Saturday, August 7th, 2010 from 1:00pm-4:00pm. If you are interested in visiting the open house, please contact Davis Frame Company by calling 1-800-636-0993 to receive directions.
About the Davis Frame Company
Over two decades ago, Jeff Davis and Rick Bascom realized they shared a common dream: to build the finest custom-designed timber frame homes. Together they formed the Davis Frame Company. Both dedicated artisans, they have consistently attracted like-minded individuals to work with them who share the same ideals of quality, collaboration and an unrelenting passion for the trade. Every home by Davis Frame is both an expression of these values and a reflection of the owner's desires.
Davis Frame designs and manufactures energy efficient and luxury timber frame and post and beam homes. The company also builds heavy timber trusses, commercial timber frames, prefabricated timber trusses, prefabricated timber bents, timber frame homes, barn homes, timber frame additions, stairs, and porches from a variety of wood species. Davis Frame also provide Structural Insulated Panels (SIPS), Eagle and Integrity windows, pre-finished T&G, cedar siding and trim, custom fir railing, and a variety of other building products.
Visit Davis Timber Frame Company's website for more information.
Contact: Molly Gagnon, Marketing Davis Frame Company 513 River Rd. Claremont, New Hampshire 1-800-636-0993
###