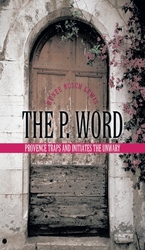 Naples, FL (Vocus) July 28, 2010
Told from a male perspective, The P. Word: Provence Traps and Initiates the Unwary (published by iUniverse), is a novel by Renee Rosch Lewis, who travels and knows the vicinity of Provence very well. Winner of the Editor's Choice Award, Renee proves that a woman can tell a fun tale from a man's perspective.
Andy and Margaret Becker are married baby boomers enjoying their retirement when Margaret discovers a book that refuels her longtime dream of traveling to Provence. Andy soon discovers that his wife has made it a mission to convince him to embark on a journey with her that she believes will forever change their lives and marriage. And, even though Andy discussed traveling to Provence for decades, he soon finds that he is expected to actually make the dream happen.
Unlike the many books about France and, in particular, Provence, The P. Word, which could have been titled "Following Peter Mayle," is centered on humorous aspects of a relationship that has Provence as the backdrop. Andy must adjust to sleeping in a tiny bed, changing lanes in traffic circles and eating more bad carbohydrates than he ever has in his life. Readers will go along for the ride with Andy and experience the people, the unhurried atmosphere of French eating and drinking, and the fascinating history of a wonderful city in France. But beware, after reading this delightful romp, you may be booking tickets and soon heading to France.
About the Author
Renne Rosch Lewis is a retired attorney and judge who spends considerable time traveling and renting property in Provence. She and her husband, who is also an attorney and retired judge, summer on Lake Champlain in the Adirondack Mountains in New York State and winter in Naples, Florida. The author is available for interview. For more information, see http://www.ReneeRosch.com.
The P. Word
Available from: http://www.iUniverse.com, http://www.bn.com, and http://www.amazon.com
ISBN: 978-1440187346 ? 6 x 9 ? Paperback ? 160 pages ? $12.95
Contact: Carol Hoenig
Personal Media Publicist
Carolhoenig(at)carolhoenig(dot)com
516-435-7545
###