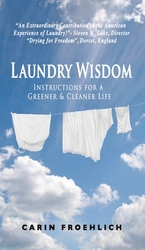 Bucks County, PA (Vocus) July 28, 2010
Traditional clothes washing and drying may become obsolete, if we buy into the idea that newer means better. Carin Froehlich, author of Laundry Wisdom: Instructions for a Greener & Cleaner Life (published by iUniverse), believes that our environment will suffer thanks in part to some of the new, state-of-the-art, overpriced appliances and thoughtless, damaging products that are being marketed. The first book of its kind, Laundry Wisdom offers fascinating information as well as helpful tips, including how to make cost-saving laundry products at home that can do the same job as what the expensive store brands do.
Froehlich has added "laundry" to the American Experience thanks to her slim volume that tackles many facets of one of the most hated but necessary household chores, which includes rich stories about generations of doing laundry. Readers may be surprised to discover that there are places in America where it is illegal to hang wet laundry out to dry. They will also yield the rewards from the author's research for a greener way of life so that they can make their own decisions about how they want to do their laundry.
Finally, there is a handy guide that presents facts, dispels the myths and shows how to care about the environment without compromising clean clothes. Whether one is into high-tech or looking for a simpler, greener way of life, Froehlich has answers to dilemmas and queries of all kinds when it involves laundry. Love doing laundry or hate it, this book is a collection of short articles and stories that present endless reasons why and how to make it a part of your life. Both nostalgic and contemporary, Laundry Wisdom is, above all, timely in view of the current economical and environmental situation.
About the Author
Carin Froehlich is an accomplished entrepreneur known for introducing the first hospital gown with a closed back in 1982, patent pending. Carin re-established her family's business, Ingleby Farms, a specialty food company. Now retired, she resides in Bucks County, Pennsylvania with her family while tending to her grandchildren and her award-winning gardens. Find out more about the author at https://www.laundrywisdom.com/. She is available for interviews.
ISBN: 978-1440198021 ? Paperback ? 128 pages? $11.95
Contact: Carol Hoenig
Personal Media Publicist
Carolhoenig(at)carolhoenig(dot)com
516-435-7545
###