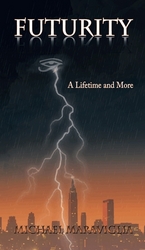 Montclair, NJ (Vocus) July 28, 2010 -
It was prophesied centuries ago that soulmates Solaro and Adriana would find one another again in the distant future. But who would know that their pure bond of love would need to overcome everything in a new age to lead the human race to its only chance at survival?
Author Michael Maraviglia in his new book Futurity: A Lifetime and More (published by iUniverse) sets a modern-day action-packed romance in New York City, in which protagonists Solaro has lived as an immortal on earth for 12,000 years awaiting the reincarnation of his soulmate Adriana – but darker forces led by the evil Sansevir and Anasuntha (also immortal Masters) plan to drive them apart by defeating Solaro in combat. Anasuntha, once in love with Solaro, begins serving the Brothers of Belial – the six fallen members of the Brotherhood of Light who oppose Solaro and his quest to reunite with Adriana – and who hope to dominate the world after defeating the Brotherhood of Light. With the help of Palomar, one of Solaro's most trusted friends, Solaro embarks on his mission to find Adriana before harm can befall her.
Maraviglia's adventure/romance combines alternate themes of history, such as the building of the great pyramids in Egypt and the story of Atlantis, with the coming age predictions and phenomena of 2012, incorporating quotes of America's best-known psychic Edgar Cayce. The story builds to a fantastic crescendo with a battle between Solaro and Sansevir, and Adriana's rediscovery of her spiritual past and her renewed longing to return to Egypt to finish her lessons begun thousands of years ago. Will she live to realize her destiny of becoming a Master and leading the world in peace and prosperity with Solero at her side?
About the Author
Michael Maraviglia was born in Belleville, N.J. He graduated from Montclair State University in 2002 with a bachelor's degree in political science and a minor in classics. In 2007 he completed his master's degree in social work from Kean University and has worked in the public school system ever since. Maraviglia has always been an avid reader of Egyptian, Greek and Roman history along with mythology, enjoying the archetype of the tragic hero and the fundamental moral lessons based in antiquity. He lives today with his wife, Julia, in New Jersey. This is his first book.
iUniverse is the premier book publisher for emerging, self-published authors. For more information, please visit http://www.iuniverse.com.
EDITORS: For review copies or interview requests, contact:
Promotional Services Department
Tel: 1-800-AUTHORS ext 5378
Fax: 812-349-0778
Email: promotions(at)iuniverse(dot)com
(When requesting a review copy, please provide a street address.)
Futurity: A Lifetime and More
Behind a modern-day New York romance is an immortal world of historic, destiny-changing proportions
###