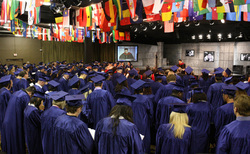 "The demand for distance learning has increased significantly in the last year," says Co-founder of IMI ------ Dr. Robin Harfouche
Pensacola, FL (PRWEB) July 28, 2010
Distance learning in the field of education takes a quantum leap forward with the advent of modern technology.
Distance learning is defined as the process to create and provide access to learning when the source of information and the learners are separated by either time or distance (or both).
Having begun in the early 1700's, the concept of distance education continues to reinvent and revolutionize the spread of knowledge and the student's accessibility to it.
With recent additions, now utilizing computer technology and the internet, notable universities all over the world are now successfully applying correspondence and distance education.
International Miracle Institute (IMI), an institute of Bible education, has pioneered this type of advancement, with over 100,000 students worldwide. In 2009, IMI graduated in one day an unprecedented student body made up of 89 different nations. This year, on August 8th, Biblical education will go to the next level. "The demand for distance learning has increased significantly," says IMI's co-founder Dr. Robin Harfouche, "In 1994, when IMI was founded, this type of education was made available through the use of radio, television, and audio or video mediums, but because of the vast properties available through today's internet, education has taken on an entirely new format."
On August 8th,International Miracle Institute, under the leadership of its president Dr. Christian Harfouche, and his wife Dr. Robin Harfouche, will graduate 160 nations during the annual Summer Campmeeting. This "Victory" celebration will be held at the The World Center in Pensacola Florida, which houses the International Miracle Institute's campus. A student body of graduates from 160 nations and all 50 states numbering 4000 strong will celebrate this monumental event together. The progression of this distance learning program are incalculable, fulfilling what Jesus spoke in the Bible known by all men as "The Great Commission."
The World Center is the headquarters of Christian Harfouche Ministries, Miracle Faith Center Global Church, the International Christian Karate Association and the International Miracle Institute. The ministry is currently reaching 190 nations, with 100,000 students worldwide and a potential viewing audience of 3.5 billion people by way of television.
Victory Summer Campmeeting is free, but registration is required. The event will take place August 1st through the 8th in Pensacola, Florida. To register now or for more information, visit http://www.globalrevival.com or call 1-888-526-4600.
Event Location: Miracle Faith Center, 4317 N. Palafox St., Pensacola, FL.
Phone: 1-888-526-4600 or 850-439-6225
Email: info(at)globalrevival(dot)com
URL: http://www.globalrevival.com
###