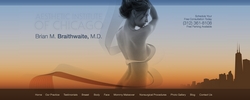 Chicago, IL (Vocus) July 27, 2010
A recent study by the American Society of Aesthetic Plastic Surgery (ASAPS) showed a 147% increase in surgical and non-surgical cosmetic enhancement procedures between 1997 and 2009. Dr. Brian M. Braithwaite, a plastic surgeon in Chicago, recently discussed the importance of choosing a board-certified plastic surgeon as aesthetic enhancement becomes more prevalent.
When considering cosmetic procedures such as breast augmentation in Chicago, Dr. Braithwaite says board-certification is an essential component for any significant life decision like plastic surgery because of the rigorous qualification process. He added that the necessary education and experience gained during that process further enhances his patients' safety and likelihood of satisfactory results when undergoing aesthetic enhancement treatment at the Aesthetic Institute of Chicago.
Dr. Braithwaite offers a wide range of surgical and non-surgical procedures, from injectable fillers to liposuction in Chicago. With liposuction alone, he says there are a number of techniques used today, and board-certified plastic surgeons like himself are the most qualified to examine all the options and deliver the safest treatment with the best possible outcome.
Regardless of whether his patients are considering a complete makeover, or individual treatments like a tummy tuck in Chicago, Dr. Braithwaite says experienced board-certified plastic surgeons are uniquely trained to perform the full range of body contouring procedures. With the numerous options and techniques that are available for aesthetic enhancement, he says board-certification provides another essential level of safety, which in turn allows him to provide each patient with a clear understanding of their plastic surgery treatment plan.
With over 10 million surgical and non-surgical aesthetic enhancement procedures performed in the U.S. in 2009, Dr. Braithwaite says board-certification is a key indicator of a surgeon's skills and qualifications because of the challenging evaluation process, which has heavily influenced his ability to deliver superb cosmetic and reconstructive plastic surgery results.
About Brian M. Braithwaite, MD, FACS
Dr. Braithwaite earned his undergraduate degree from the University of Chicago and medical degree from the University of Illinois College of Medicine in Chicago. He completed his general surgery residency at Keesler Medical Center, and went on to train in plastic surgery at the University of Louisville. After practicing as a staff plastic surgeon at the Bethesda Naval Medical Center and becoming the Chief of Plastic Surgery there, he was named Assistant Professor at the Uniformed Services University of the Health Sciences. He is board-certified by the American Board of Plastic Surgery and is a Fellow of the American College of Surgeons.
Dr. Braithwaite and the Aesthetic Institute of Chicago can be found at 601 West Randolph St. in Chicago, IL 60661, and can be reached at (312) 361-8108 or http://www.drbraithwaite.com/
###