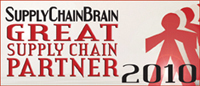 Charlotte, NC (PRWEB) July 27, 2010
Over 2,800 nominations covering various industries were submitted by companies – large and small — nominating vendors and service providers whose technology, logistics, transportation or consulting services has made a significant impact on their company's efficiency and overall supply chain performance. The result – the 2010 100 Great Supply Chain Partner list, which includes Integration Point, Inc., a provider of global trade compliance and management solutions, has been published by SupplyChainBrain magazine.
The purpose of the 100 Great Supply Chain Partner list is to recognize those vendors that have so impressed their customers with not only the technology provided but also customer service, that they should be held out as an example for others in the industry. The list is a culmination of responses gathered during a 6-month poll of readers of SupplyChainBrain, and is a clear indication that companies are looking for vendors/partners that can help them succeed in cost savings, productivity improvements, inventory management and savings. Integration Point customers also referred to increased visibility and compliance in their import/export processes.
"Our mission at Integration Point is to provide our customers with a global trade network that integrates enterprise, supply chain and regulatory knowledge from around the world on a single web-based platform," said Clay Perry, Senior Vice President – Global Markets at Integration Point, Inc. "To receive this award because our customers see us as a valued partner in their supply chain is a great honor. Integration Point looks forward to continuing to provide the best technology and customer service to our customers."
About Integration Point, Inc.
A leading provider of global trade management solutions, Integration Point, Inc. assists international companies by providing import and export visibility globally, delivering up-to-date global regulatory information and facilitating connectivity to supply chain partners and government agencies around the globe. Built on a single, web-based platform, Integration Point allows organizations to secure their supply chain and comply with global regulatory requirements while improving visibility and realizing savings opportunities. Integration Point Global Trade Management includes solutions for: import/export management, supply chain security, entry validation, restricted party screening, product classification, free trade agreement qualification and duty deferral program management (US FTZ, Mexico Maquiladora, EU Customs Warehousing, etc.). Contact Integration Point at http://www.IntegrationPoint.com or 704-576-3678.
###