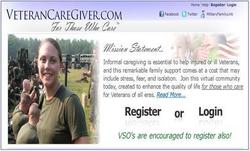 Annapolis, MD (PRWEB) July 27, 2010
WiseHealth, Inc. has already demonstrated initial success in supporting veterans and their caregivers by providing them with facilitated communication and social networking tools on the website VeteranCaregiver.com. Launched in May, to coincide with the enactment of The Caregiver and Veteran Omnibus Health Services Act of 2010, VeteranCaregiver.com has confirmed the potential of public agencies acting in concert with private enterprise to ease many of the transition and ongoing veteran issues that have existed for decades.
Though Veterans Service Organizations and federal agencies vary on particular veteran priorities, there is unanimous consistency in support for the veterans' caregivers. It is clear that if the daily dedication of these caregivers did not exist, the VA system would struggle even more under the added burden needed to provide additional caregiver services to the veterans under their care. Sara Shaw, spouse and caregiver of Army Specialist/E4 Coban Shaw who was wounded in Iraq and suffers from Traumatic Brain Injury (TBI), Post-Traumatic Stress Disorder (PTSD), and periodic paralysis says, "VeteranCaregiver.com understands that the caregiver is the 'heartbeat of the family' and that so many of us struggle with few resources and geographic isolation. The immediacy of response available on the site is essential at that low moment."
In 2010, nearly one million veterans will transition from the military into the veteran population. Walter Schmidt, a Vietnam veteran who is also a Veteran Service Officer on Long Island, NY contributes daily to VeteranCaregiver.com and describes his own caregiving situation: "As a tetraplegic with only partial use of my right arm and hand, if it were not for my wife... I am unable to perform any of the activities-of-daily-life without significant help. Did I mention that she is an Angel? Caregivers are the backbone of the veterans' world".
Linda Kreter, CEO of WiseHealth, Inc. created VeteranCaregiver.com to support and personalize the caregiver experience. "There are thousands of caregivers from WWII through the current Iraq/Afghan conflicts, who deserve support and recognition. Our online technology provides the connection, but it is people -- peers and professionals -- that guide families and coordinate essential individual efforts. My colleague, Pat Rowe Kerr of Missouri, recently facilitated a female veteran's experience in a Military Sexual Trauma (MST) situation with compassionate process and intervention. At other times, simple peer support reduces anxiety, depression and suicide. A growing network of 24/7 supportive care helps these remarkable caregivers, even as the VA works diligently to adjust to the evolving veteran population."
"Our goal is to enhance their quality of life and ensure no veteran or their caregivers ever stand alone."
For more information on VeteranCaregiver.com or to schedule an interview with Linda Kreter, please call 410-777-5214 or email at info(at)wisehealth(dot)com.
# # #