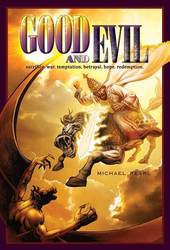 God chose to introduce Himself to mankind, not through principles, concepts, or doctrine; but through stories of prophecy, war, mercy, judgment, miracles, death, life, and forgiveness.
Centerville, TN (PRWEB) July 29, 2010
Good and Evil published by No Greater Joy Ministries has been translated in 25 languages with over 500,000 copies in print. It is currently being translated into another 50 languages. No Greater Joy's Good and Evil Translation Project provides the funding for most of these translations so that they may be freely distributed by missionaries and nationals.
Good and Evil is also critically acclaimed, a 2009 Independent Book Publishers Association (IBPA) Bronze Medal Winner and a 2009 Foreword Book of the Year Award Finalist in the Graphic Novel/Drama category. The IBPA represents over 4,000 publishers and the Foreword Awards are determined by a panel of librarians and booksellers.
Sales in English have been so strong that Good and Evil is now releasing its fourth printing (October 2010) in color. This is after multiple printings in black and white in English, Spanish and a dozen other languages. The color versions of Russian and Chinese are at the printers and scheduled for release in September.
From Concept to Reality.
By author Michael Pearl and illustrator Danny Bulanadi, Good and Evil began as a concept for presenting the Gospel in the vibrant comic book format that has worldwide appeal.
Michael saw a need for effectively presenting the Bible message to a diverse international audience in a visually engaging format. He desired to create a chronological presentation of the Bible message that was honest and vivid with a visual appeal that could transcend language and break down cultural barriers.
No Greater Joy Ministries secured the artistic talents of former Marvel Comics illustrator Danny Bulanadi (Fantastic Four, Captain America, Micronauts, Transformers cartoon) and after several years Michael and Danny made the concept a reality in 2004 with the release of the first printing in black and white.
Before going to print in English the translation groundwork had already been laid. A missionary with a 30 year history of translation work agreed to coordinate the translation effort. Good and Evil was soon available in Spanish, Thai, Ukrainian, Chinese, Mongolian and many more languages. By the time of the first printing in color in November 2008, over a dozen languages had been printed. The goal is 100 languages completed by the year 2015 and made available free of charge for distribution by missionaries and nationals.
Recently completed translations include French, Korean, and Arabic. The Arabic is available online at http://www.alkhairwasharr.com for viewing and free download. New languages are being started with the most recent being Punjabi of Pakistan. Some languages have been completed in as few as 12 months. Others take several years as translators may stop for other projects and new translators take over.
Tens of thousands have been distributed to prisoners by No Greater Joy and through numerous prison ministries. No Greater Joy daily receives requests for Good and Evil and thank you notes from prisoners for the copies that they have received. Chaplains call and write saying that prisoners eagerly accept the colorful Good and Evil 10 to 1 over other literature they are offered. Many churches and ministries are using Good and Evil for both evangelism and Bible teaching.
Not only has Good and Evil proven to be an effective tool for missionaries overseas and within prisons in the US but it has a strong commercial appeal.
No Greater Joy has signed Licensing and Rights agreements to publish Good and Evil in English, French, German, Afrikaans, Zulu, Sotho, Twsana, and Xhosn. There are negotiations to publish it in Arabic, Chinese, Italian, Norwegian, Portuguese, and at least a half dozen other languages.
No Greater Joy is currently formatting all the translations to be available by Print on Demand (POD). With POD technology it is now possible to make all the translations available for immediate purchase to a speaker of a translated language not only in the country of origin but worldwide. When purchased, these books can be printed and shipped in 48 hours.
Good and Evil is divided into 13 chapters, seven from the Old Testament, five from the New Testament and one modern missions story that includes a brief history of the Good and Evil book itself. The focus throughout the book is on those stories most relevant to whom God is and his dealings with mankind that culminates with Jesus Christ and the ministry of the church. Michael utilized his 45+ years in the ministry and experiences working with prisoners and in street ministry to produce a book that is accessible to both the "man on the street" or "in the pew".
ABOUT THE AUTHOR Michael and his wife Debi Pearl, are international best-selling authors. Their books have sold over 2 million copies and have been translated into over 30 languages. They author a free bi-monthly magazine called No Greater Joy which explores child training, marriage, Bible teaching, and natural remedies. You are invited to visit them at http://www.nogreaterjoy.org.
# # #