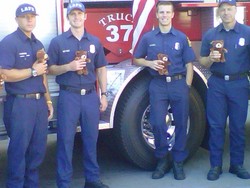 Hollywood actress Stephanie Fabian recently showed up at Los Angeles Fire Station 37 to present them with little teddy bears to give to children.
Los Angeles, CA (PRWEB) July 28, 2010
Was it the pretty lady or the excitement of helping children that got the Los Angeles Fire-Fighters to pose for the photos?
Either way LA Fire Station 37 decided to join the ranks of Fire Fighters, Police and Emergency Officials across the United States that welcome the gift of these little bears to provide to children at scenes of emergency.
Hollywood actress Stephanie Fabian - an NAPLC volunteer - recently showed up at Los Angeles Fire Station 37 (1090 Veteran Avenue) to thank the firemen for their good work in the community.
Stephanie was well received by Captain Kevin Rudd and the other fire-fighters on duty. In fact, Stephanie was treated to mouth-watering chocolate chip cookies, straight out of the firehouse oven. Someone even suggested making Stephanie "Honorary Battalion Chief" of LA Station 37.
Stephanie, however, is happy making her movies and doing volunteer work for the National Association of Police and Lay Charities and their sponsorship of the Teddy Bear Cops Car Donation Program.
In the early nineties there existed a dream—a wish to help children in need. That hopeful mission became a reality in 1997 when the Teddy Bear Cops™ Program was established—a program wherein teddy bears are sent to fire, police and emergency departments to be carried in official vehicles and given to children who have suffered through a disaster.
Children, who are witness to terrifying realities, may be spared from going into deep shock, and all the emotional damage such shock can cause by simply cuddling a small teddy bear.
The Teddy Bear Cops Car Donation Charity has been distributing boxes of child safe teddy bears ever since. These fury little ambassadors of good cheer are given by police and fire-fighters to children in crises situations, in order to distract them from the traumatic events going on around them.
If a stuffed animal can ease, if only for a moment, the trauma, shock and sometimes brutality present at such a scene then giving bears to kids and even seniors in emergency situations is totally a worthwhile activity.
We continue to send out these precious bears and welcome any Fire, Police or Emergency Officials to join up and assist in the campaign to ease the pain of young children caught in life threatening or traumatic situations.
Contact: J. Speer-Williams at http://www.givecars.com(877) 327-1229.
###