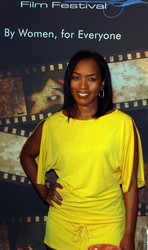 "LA Femme Film Festival is the real deal; I met a financier who is going to fund my next project" Dana Stein, Filmmaker
Beverly Hills, CA (PRWEB) July 29, 2010
LA Femme Film Festival's Founder Leslie LaPage announced today that the 2010 festival will be launching our sixth season of the LA Femme International Film Festival October 14-17, 2010; which accepts submissions of feature films, documentaries, screenplays, shorts, animation, music videos, commercial from around the world. Our "Extended Deadline" submission ends August 16th and there is only 16 days left to submit. The last date to submit to our festival is August 23 under our "I Forgot Deadline" but why wait. Submit now on withoutabox.com or http://www.lafemme.org.
This year we welcome Marla Gibbs (The Jefferson's, and Lisa K Brause, Award Winning Producer and President of GHE, as Honorary Board Members. We are very excited to celebrate the careers of these industry professionals as they take their place in our Honorary level of Entertainment Board Members.
The festival will run from October 14th -17th, 2010 in Los Angeles, CA and include independent features, shorts, music videos, commercials, special screenings and seminars. The four day event will be held at the Renberg Theatre in Los Angeles. LA Femme is dedicated to celebrating and empowering the female working in entertainment world wide. This years' festival showcases works from all over the world in an effort to bring together women artists in all capacities of filmmaking to audiences and distribution professionals with global and commercial films. Ms LaPage sates, "No Festival does what we do for women, we really care about making sure the women Filmmakers, Writers, and Producers gain access to Hollywood and get their films seen, sold and produced."
This year LA Femme is launching and exciting opening night, networking parties every night, educational seminars that help filmmakers with Writing, Pitching, Marketing / Distribution and Branding and selling your film with social media outlets. Our networking bashes will be attended by celebrities and entertainment professionals.
Some Past Celebrity Award Honorees included :Marianne Jean-Baptise (Without a Trace), Sara Gilbert ( Roseanne), Diablo Cody (Juno) Vivica Fox (Kill Bill), Rosanna Arquette (After Hours), Lea Thompson (Caroline in the City), Penelope Spheeris (Wayne's World) ( Susan Seidelman (The Boynton Beach Bereavement Club), Maria Conchita Alonso (Mermaids), Jacqueline Bisset (Domino) and many more.
To purchase Full Access VIP Pass go to: http://www.lafemme.org Regular Price ($150) Discounts for WGA and SAG Guild Members for ($59.99).
Key sponsors include: Screen Actors Guild Women's Committee and Diversity, Writers Guild America West, Governor's Office of Film and Entertainment State of Florida.
Media Inquiries: To register press credentials for the Festival or to schedule an interview with Leslie LaPage, contact Donna Hull at 310-441-1645 or email llapage(at)lafemme(dot)org website http://www.lafemme.org
Visit the website at http://www.lafemme.org
LA Femme Film Festival highlights commercially-viable films written, directed or produced "by women for everyone". Now in its sixth year, the festival is solely dedicated to nurturing a new breed of female filmmakers.
###