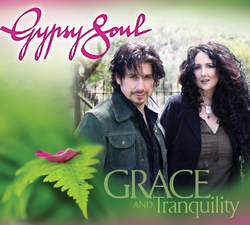 "Transcendent. Her voice is haunting and his musicianship is superb. Their music stirs the soul and moves the spirit." - Monica Rizzo, PEOPLE Magazine
Jacksonville, OR (PRWEB) July 28, 2010
Beauty and edge merge in Grace and Tranquility and with mastery of feel and expression, the CD effortlessly dances through genres, taking the music from funk to folk, rock to Americana, all woven together into one seamless whole. The CD is a companion to Alan's elegant book of photography and prose, with the lyrics adapted from and inspired by the book.
The band features songwriters Cilette Swann (Canadian/US) on vocals, with her haunting 5-octave range, and virtuoso musician/producer, Roman Morykit (UK). They have sold over 110,000 CDs and had 1.5 million digital downloads (all without the benefit of outside label support). They have also had over 120 placements in TV shows and motion pictures, including: Felicity, Providence, Roswell and After Sex among others. Gypsy Soul has been named as critic's choice in over sixty publications and has had Top 40 hits on diverse radio charts nationwide.
Cilette and Roman have consciously cultivated a path of excellence, positivitiy and service and in this soulful collaboration with Eric Alan, the three hope that the book and CD will inspire the same in others. The band's annual benefit concerts now in their 10th year, have raised thousands of dollars for local charities in the Northwest. In a spectacular show of support, Gypsy Soul's supporters donated $27,000 to fund the recording costs of their CD, Wanderlust.
Gypsy Soul's own Voices Unheard project is another outlet in which these two artists give back. Initially designed to help aspiring musicians get traction in the music business, its scope has broadened to empower, elevate and give voice to women and children affected by sex trafficking in South East Asia and other countries.
GRACE & TRANQUILITY TOUR:
AUG. 5: Seattle, WA - MARTY REIMER'S PODCAST
AUG. 6: Issaquah, WA - PRIVATE EVENT
AUG. 7: Seattle, WA - BREAST CANCER BENEFIT - PRIVATE
AUG. 8: Seattle, WA – CENTER FOR SPIRITUAL LIVING
AUG. 8: Seattle, WA - TRIPLE DOOR – Grace and Tranquility CD RELEASE CONCERT
AUG. 13: Tacoma, WA - PRIVATE HOUSE CONCERT
AUG. 14: Seattle, WA - PRIVATE HOUSE CONCERT
AUG. 15: Seattle, WA – UNITY CENTER
AUG. 21: Birch Bay, WA - CONCERT
AUG. 22: Bellevue, WA – UNITY CENTER
AUG: 23: NATIONAL – RADIO CAMPAIGN STATES TO NON- COMM STATIONS
AUG. 26: Issaquah, WA - FEARLESS WOMEN - NATIONAL EVENT & MINI-CONCERT (Benefiting the Women's Funding Alliance)
SEPT. 5: Walnut Creek, CA – UNITY CENTER
SEPT. 25: West Coast Live – RADIO INTERVIEW (tentative)
SEPT. 25: Fremont, CA – BRASK EVENTS
SEPT. 26: San Jose, CA – CENTER FOR SPIRITUAL LIVING
OCT. 2: Weaverville, CA – MAMMA LLAMA
MEDIA QUOTES:
"Transcendent. Her voice is haunting and his musicianship is superb. Their music stirs the soul and moves the spirit."

Monica Rizzo, PEOPLE Magazine
"Four Stars." - All Music Guide
"The music of Gypsy Soul IS a Conversation with God." - Neale Donald Walsch
CONTACT INFO:
Cilette, Roman and Eric will make themselves available for interviews and in-studio performances.
Band: http://www.gypsysoul.com cilette(at)gypsysoul(dot)com or roman(at)gypsysoul(dot)com
Eric Alan: http://www.wildgrace.org eric(at)wildgrace(dot)org
Label: http://www.gypsysoul.com heidi(at)gypsysoul(dot)com
Alan's Publisher: http://www.whitecloudpress.com scholl(at)whitecloudpress(dot)com
Radio Promotion: http://www.coherentmusic.com jeff(at)coherentmusic(dot)com
# # #