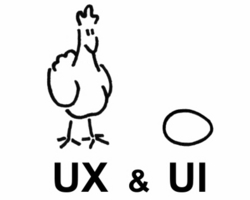 I produced the Chicken & Egg video to raise general awareness and appreciation for the role User Experience Designers play.
Portland, OR (PRWEB) July 27, 2010
Site9, Inc., developer of the industry's fastest growing collaborative prototyping tool for websites and web applications, ProtoShare, today announced the company's sponsorship of The Chicken & Egg video. Created by user experience consultant, Kai Brunner, the video explains how UX (user experience) design is structurally connected to the UI (user interface) in interactive design.
To effectively explain the relationship between user experience and user interface to clients, family, and friends, Brunner looked to the age-old chicken and egg relationship of which came first – the chicken or the egg. Using the analogy in his animated video, Brunner illustrates how user experience design affects the user interface, and how a user interface improves from feedback gathered during evaluations of the user experience. Eventually, a clear and enjoyable user experience results from a superior user interface, which was refined and improved with usability testing and feedback.
Brunner has also entered The Chicken & Egg video, with ProtoShare as the sponsor, into the 2010 Viral Video Awards at the 26th International Short Film Festival Berlin. "I produced the Chicken & Egg video to raise general awareness and appreciation for the role User Experience Designers play in making the web better for us all," said Brunner.
"People are confused about what UX and UI are. When Kai showed us his video we found it informative and entertaining, while also illustrating the need for tools like ProtoShare. We decided to sponsor him in his quest to educate people about the need for good user experiences, and how they are derived," said Blake Johnson, Founder and VP of Marketing at Site9.
Brunner's video can also be viewed online at Vimeo: http://www.vimeo.com/12871218.
About Kai Brunner
Brunner is an independent UX and UI consultant. He has been analyzing and designing memorable interactive user experiences for over 15 years. In 2010, Brunner was honored with an MEX Award for a cutting edge mobile user experience for his prototype touchscreen tablet application, BlazeBroker. For more information on Kai Brunner, visit his website at http://www.KaiBrunner.com.
About Site9, Inc.
Founded in 1999, Site9, Inc. is the developer of ProtoShare, recognized in 2009 by O'Reilly Media as a "Top 50 Usable RIA." Fortune 500 companies, leading interactive agencies, and web developers in over 84 countries around the world use ProtoShare wireframe software to deliver better digital experiences while cutting time and costs. Visit the website at http://www.ProtoShare.com to learn more about ProtoShare.
###