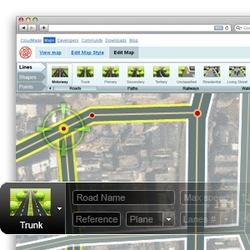 "This new funding will enable us to significantly expand our support to developers and businesses in building and monetizing apps, products and services that use maps and location," said Juha Christensen, CEO & Chairman of CloudMade
Menlo Park, CA (PRWEB) July 27, 2010
CloudMade has raised $12.3M in a Series B investment round led by new investor Greylock Partners, which joins existing investor Sunstone Capital. The company will use the funds to further accelerate its work to build the world's most comprehensive map and geo database, and serve this data to developers, device manufacturers and mobile operators through its comprehensive mapping platform.
"This new funding will enable us to significantly expand our support to developers and businesses in building and monetizing apps, products and services that use maps and location," said Juha Christensen, CEO & Chairman of CloudMade. "We're thrilled to have additional backing from Sunstone and a new investment from Greylock and look forward to leveraging their joint expertise."
Unparalleled by any existing product, CloudMade's versatile mapping platform was built solely for developers and large customers, such as device manufacturers and mobile operators. This is reflected by its quickly expanding 12,500-strong developer community and its growing customer base. CloudMade's platform allows third parties to easily create applications with stylized and customized map tiles, fully featured turn-by-turn navigation, in-app advertising, local search and data sets relevant to thousands of consumer activities. CloudMade's best-selling developers' apps include: Skobbler, OffMaps, Geocaching, Trails, Ride the City and GayCities.
CloudMade works alongside OpenStreetMap (OSM), a wiki map of the world with over a quarter of a million users worldwide (3,500 new users per week), making over 7,000 edits per hour. Early this year, CloudMade introduced the 'It's Your Map' initiative to stretch the bounds of the OSM community by providing user-friendly apps that enable non-technical people to become map contributors. This new funding will also allow CloudMade to build out and add to its popular suite of consumer mapping products, Mapzen, which severely reduce the complexity of mapping and makes mapping fun for all.
The diverse team behind CloudMade includes the co-founder of Symbian and ex-Microsoft senior executive Juha Christensen, OpenStreetMap (OSM) founder Steve Coast, long-time OSM contributor Nick Black, and former Symbian and SurfKitchen executive Jim Brown. CloudMade was established to help developers create compelling location enabled applications and to simplify the way people contribute to OSM. CloudMade earns revenue though location based advertising, geo data and premium mapping services.
"CloudMade is leading a dramatic change in the way maps and location data are being created, distributed, used and monetized," said Greylock Partner Arnon Dinur, who joined CloudMade's Board of Directors as part of this investment. "We believe that consumers' and developers' needs for daily updated maps with greater detail and relevance, will explode in the coming years. Using CloudMade's platform enables the best return on investment to meet this growth."
"We're pleased to continue our support for CloudMade and the OpenStreetMap initiative, which is disrupting the traditional mapping world with its crowd sourced approach and unique product offering," said Jørgen Smidt, partner at Sunstone Capital Technology Ventures. "Having Greylock join the Series B round will not only accelerate the CloudMade proposition for the benefit of new customers and third-party developers, but will open doors to new strategic partnerships."
Developers looking to build map based mobile apps or websites should visit the CloudMade Developer Zone where they can access our services for free and even earn revenue with targeted, location based advertising.
-ENDS-
About CloudMade
CloudMade powers several market leading location and map based applications from prominent mobile and web developers. Its mapping platform and tools enable thousands of developers and organizations to create innovative geo-enabled products. CloudMade was awarded 'Best Emerging Startup' at the Mobile Premier Awards at Mobile World Congress 2010.
The CloudMade suite of products includes: Navi Studio (a package of modular components including off-board turn-by-turn routing and navigation, forward and reverse geocoding and local search); Style Editor for creating stylized and customized maps; Data Market Place, a Turkish bazaar of geodata for subscribing to datasets; Location Based Advertising (LBA), earn revenue from highly targeted location based advertising; Mapzen, a web and mobile app that makes editing and adding Places of Interest to OpenStreetMap easy and fun. CloudMade offers comprehensive libraries for both web and mobile developers wishing to build applications on CloudMade's mapping platform. For more information, please visit http://www.cloudmade.com.
About Greylock Partners
Greylock partners with entrepreneurs to help them build market-leading businesses. Over the past 45 years the firm has worked with hundreds of companies, 150 of which have gone on to IPOs and 100 of which have gone on to profitable M&A events, including: Ascend Communications, CheckFree, CipherTrust, Constant Contact, Continental Cable, Decru, Data Domain, DoubleClick, Farecast, Internet Security Systems, Ikanos, Legato, Media Metrix, Millennium Pharmaceuticals, Openwave, Open Market, OutlookSoft, Polyserve, Red Hat, RightNow Technologies, Success Factors, Sun Edison, Tellabs, Trilogy and Wily Technology. Current Greylock companies include Data Robotics, Digg, Facebook, Imperva, LinkedIn, Palo Alto Networks, Pandora, Picarro, Redfin, Workday and ZipCar. Greylock operates in a number of global centers of innovation, including Boston, China (Beijing), India (Bangalore), Israel (Herzliya) and Silicon Valley. For more information about Greylock Partners, visit http://www.greylock.com or follow us on Facebook or Twitter (@GreylockVC).
About Sunstone Capital
Sunstone Capital is a Nordic-based early stage venture capital investor founded by an international team with more than 200 years of combined entrepreneurial, operational and financial experience. With over USD 650 million in funds under management, Sunstone focuses on developing and expanding early-stage Technology and Life Science companies with strong potential to achieve global success in their markets. For more information, please visit http://www.sunstonecapital.com.
# # #