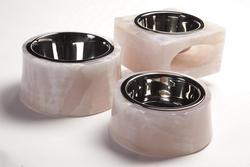 The Pink Onyx will appeal to unique pet owners who wish to be surrounded by beautiful objects they adore; these objects such as art, sculptures and furnishings make you feel good, you get enjoyment when you look at them" says Kevin Thomas
Las Vegas, NV (PRWEB) July 28, 2010
Kevy K. Designs is proud to introduce a Pink Onyx to its line of hand carved stone pet food and water bowls. Pink Onyx is such a rare natural stone, which will be the avant-garde of the Kevy K line. The Kevy K. collection appeals to sophisticated pet owners who view their pets as children and covet elegant, one-of-a-kind and unmatched quality products to compliment their living environment.
It starts as a single piece of boulder the size of a bowling ball. Each piece is chipped away, carved and then polished inside & out to a smooth and seamless finish. Each feeder has its own distinct characteristics, which no two are alike. The Pink Onyx has rich tones of whites and browns through out. In light the Pink Onyx is somewhat translucent adding to its unique composition.
The Pink Onyx will be available in two styles: the Lamar style is modern; a square shape that is hollow in the center. It is 7 inches squared and 4 inches in height. The Lamar style will accommodate small pets up to 15 lbs. The Gisele style is sleek, round slop shape that is hollow in the center and ¾" thick. The Gisele style is available in two sizes: 8 inches diameter & 3 inches height for the extra small and 9 inches diameter & 4 inches height for the small. The extra small will accommodate pets under 10 lbs and the small is ideal for pets under 20 lbs. The heavy stone feeders weighting approx 9 lbs will prevent rambunctious pets from moving, tipping over and damaging them. A removable stainless steel bowl polished to a mirror finish compliments this stunning piece of functional art.
The 3 and 4-inch elevated feeders will provide a healthier dining experience for toy, small breeds and cats. The enhanced benefits are better digestion and proper eating posture, easy swallowing, slower eating and cleanliness.
The Pink Onyx will be available at http://www.KevyK.com, a limited number of high end pet boutiques, home furnishing/gift stores, luxury websites and through interior designers.
Kevy K. Designs is a division of Snooty Pets; a Las Vegas pet boutique specializing in unique pet accessories, professional grooming services and fresh baked dog treats and cakes.
Contact: Kevin Thomas…
Phone: 702-580-9734
KevyKDesigns(at)yahoo(dot)com
http://www.KevyK.com
# # #