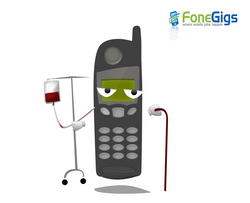 We like to think we are offering an opportunity for someone who, maybe, is being made fun of for still using an outdated mobile phone
Houston, TX (PRWEB) July 28, 2010
Mobile marketing job site FoneGigs is inviting the public to share pictures of their outdated mobile phones that their friends or themselves are still using on a daily basis for a chance to potentially win a prize. The scope of the prize is related to the number of participants - meaning if a low number of people participate, the prize will be a box of cereal. However, if many people participate, the prize can be an iPhone 4.0.
FoneGigs is announcing its first-ever contest aimed at celebrating the growth of mobile advertising and is inviting those who want a new mobile phone to showcase their old and outdated mobile phones. The "I have the most outdated mobile phone" competition is a four-week social media contest to select the person who is in badly need of a new mobile phone.
"We like to think we are offering an opportunity for someone who, maybe, is being made fun of for still using an outdated mobile phone," said Eric Melchor, FoneGigs founder. "To be honest, I think I would have a good shot at winning since I still use a Nokia 6085. However, we release this contest as a way of having fun for participants, with the possibility of winning a Smartphone."
Contest participation is easy – Take photos of your outdated mobile phone while you are out in public using it. Twitpic your photos to Twitter with the tag #FoneGigs along with a brief description of the make and model. Contestants can also choose to upload their pics on the FoneGigs FaceBook Fan page. After the contest has lasted three weeks, FoneGigs will choose the top 'most outdated' phones and will then allow the public to vote which mobile phone they consider to be the most outdated for one week on the FoneGigs blog. The phone with the most votes will determine the winner.
All photos must be taken between July 27th and August 19th. The public is also invited to get updates about the next FoneGigs contest via Facebook, Twitter, or subscribing to the FoneGigs Blog. If they are looking for a job in the mobile marketing industry, they can also upload or e-mail their resume to FoneGigs and let recruiters contact them.
About FoneGigs
The web site http://www.FoneGigs.com is the first social community and job board dedicated to Mobile Marketing Jobs and Mobile App Developer Jobs. Additionally, the web site provides free mobile resource downloads which provide company profiles and contact information for Mobile Ad Networks, Mobile Analytics Companies, and more. FoneGigs was founded by Eric Melchor who has worked for leading international media agencies in New York and Europe.
For more information about the contest including the terms and conditions, visit http://fonegigsblog.com/contests. If you like to schedule an interview with Eric Melchor, please email Eric at Eric(at)FoneGigs(dot)com or 832-590-0478.
###