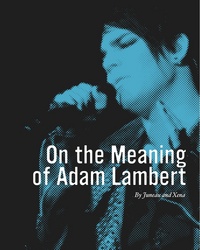 What is it About Adam Lambert?
San Diego, CA (Vocus) July 27, 2010
Adam Lambert, the 28-year-old singer who captivated millions of viewers of American Idol in 2009, enjoys one of the most impassioned fan bases in popular music. His fans inundate radio stations with requests for his chart-climbing singles, "Whataya Want From Me" and "If I Had You." They have voted his music videos to multiple weeks in the number one spot on VH1's Top 20. They snap up tickets to his current Glam Nation tour, selling out venues in the U.S. and abroad. His debut CD For Your Entertainment just surpassed one million in worldwide sales.
Lambert's fans drive such heavy traffic on the Web that last week, RCA Records had to set up a separate Web server for the Adam Official web site. Fans have posted over one million comments on Adam Official. The buzz is that the site is the largest Sony/RCA has ever had for any of its artists.
This Wednesday, July 28, at 10-11PM EST, Juneau Underwood and Katherine Hollinsworth, hosts of the weekly radio show Juneau & Xena's Salon, will discuss how social media is helping to propel Lambert's career. The two women first met on a website that posted an article by writer Allegra Huston, "What is it About Adam Lambert?" in June of 2009. They became fascinated with understanding his impact and commented prolifically as "Juneau" and "Xena", launching a remarkable journey that culminated in the publication of their posts - writings that cover a wide array of topics and personal transformations - in a book, On the Meaning of Adam Lambert, available on Amazon.com.
In a recent interview with the authors, Fox Connecticut anchorman Logan Byrnes noted "this book is getting rave reviews on Amazon." It explores not only the star qualities of Lambert, but also reveals how fans have latched onto technology and social media in search of news and to forge friendships that span the globe.
With his affinity for diverse musical genres, Lambert does not fit neatly into a marketing pigeonhole, but with stellar vocals and memorable performances on Idol, he won a devoted following and was signed to RCA Records. A clear favorite of fans and critics, Lambert's loss of the Idol title ignited a firestorm of comment in the media and on blogs. Well-spoken and charismatic, the singer quickly became a media darling, the subject of countless interviews, magazine photo shoots and YouTube videos. The round-the-clock availability of information, images and sound catered to his fans' insatiable appetite. Case in point: a video of Lambert signing a fan's copy of On the Meaning of Adam Lambert landed on YouTube within a few hours.
As true evangelists of social media, Underwood and Hollinsworth have launched their own blog, which takes up where their book leaves off, posting editorials, reviews and updates, and are gaining fans of their own: "What a story…what a journey…what amazing women. I have been captivated, enthralled and engrossed in the ongoing stream of emotion, humor and flirtation revealed in their writing. It is incredible to witness the serendipitous collision of such intelligence and passion, stirred by a beautiful, talented entertainer and fuelled by the constant chatter of sights and sounds that technology has provided. These women are inspirational themselves."
Underwood and Hollinsworth are available for interviews to provide a unique angle to your stories about social media, the music industry, and coverage of Adam Lambert concerts in your area.
ATTENTION: Of special interest to media covering these events:
7/27/10 and 7/28/10 Costa Mesa, CA, OC Fair – Pacific Ampitheatre (Glam Nation Tour)
7/30/10 San Diego, CA Copley Symphony Hall (Glam Nation Tour)
7/31/10 Las Vegas, Mandalay Bay Beach (Glam Nation Tour)
8/1/10 Tempe, AZ, The Marquee (Glam Nation Tour)
8/4/10 Lubbock, TX, The Pavilion (Glam Nation Tour)
8/6/10 Oklahoma City, OK, Bricktown Events Center (The Glam Nation Tour)
8/7/10 Springfield, MO, Juanita K. Hammons Hall (The Glam Nation Tour)
8/8/10 St. Louis, MO, The Pageant (Glam Nation Tour)
8/10/10 Erie, PA, Warner Theater (Glam Nation Tour)
8/12/10 Upper Darby, PA, Tower Theatre (Glam Nation Tour)
8/13/10 Bethlehem, PA, Musikfest
###