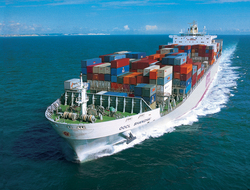 ACS&T's warehouse management system, which allows me to see our stock levels and manage orders from ACS&T's stores in real-time, is also a huge bonus.
(PRWeb UK) July 28, 2010
Sea Products of Scotland has become the first customer to take advantage of ACS&T Logistics and Edge Worldwide Logistics' new global, integrated, end-to-end logistics service. Working closely with Sea Products, the ACS&T and EWL teams will now form the global supply chain and European distribution platform for the business's newest import – Cobia.
Sustainably farmed by Sea Product's sister company in Vietnam, Cobia is a large saltwater fish which can grow up to 2 metres in length, and is highly prized for its firm white flesh and excellent flavour.
The new service is the first of its kind in the UK and involves EWL collecting containers of frozen cobia from Vietnam and shipping them to the UK. They then bring them, by road, to the ACS&T coldstore and distribution centre in Wolverhampton.
ACS&T then take over, handling storage, packing and palletisation, and onward distribution to Sea Products' customers across the UK and Europe. ACS&T's industry leading real-time warehouse management system enables Sea Products of Scotland to monitor, trace and manage orders of stock in ACS&T's store in real time.
This service means that Sea Products no longer have to manage a complex and costly logistics process, involving several different logistics, storage and distribution partners. Instead they can focus on the essential task of finding new markets for its fish. Other benefits to the company include substantial cost savings, increased visibility, enhanced information flow and greatly improved operational efficiencies.
Mark Warrington, Managing Director of Sea Products of Scotland said:
"I had worked with EWL before and was impressed with the level of service they deliver, so they were the obvious choice for our new farmed product from Vietnam. There was however a need to take this to the next stage and find a similarly professional company to take care of our central storage and distribution. We really needed a reliable and dependable service as this is a new product, and we could not be let down by poor distribution and warehousing.
"ACS&T have delivered a fantastic service and been invaluable in advising us in establishing a storage and transport network to our extensive customer base. The new global logistics partnership of EWL and ACS&T has made our entire supply chain more efficient, streamlined and manageable. By significantly reducing our admin, it is allowing us to concentrate our efforts in marketing the product and developing new markets for the product overseas, in the knowledge that our distribution is in safe hands.
"ACS&T's warehouse management system, which allows me to see our stock levels and manage orders from ACS&T's stores in real-time, is also a huge bonus."
This new service is available to any company that sources its frozen food products globally. Customers can expect to unlock savings at every step of the supply chain, through reduced shipping rates, administration costs and efficiency in storage and delivery.
ACS&T operates from four centres in Grimsby, Wolverhampton, Tewkesbury and Scarborough. The company's extensive resources include 12 cold stores, 3 ambient stores, comprehensive co-packing facilities and large, dedicated and shared user multi-temp transport fleets.
Committed to delivering high quality service, and operates with integrity and a concern for the environment, ACS&T is accredited with the BRC Storage & Distribution certificate across all sites and temperature regimes in addition to the ISO9001 and 14001.
If you'd like to find out how ACS&T and EWL could save you money and improve your business performance, contact Carl Robinson on 01472 358207 or visit the ACS&T website
###