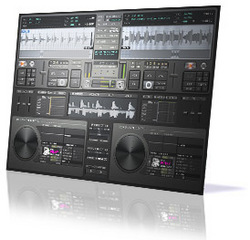 (Vocus) July 28, 2010
Deckadance 1.7 is available for both MAC and PC and gains a new audio engine improving on the already high quality Deckadance sound (for total backward compatibility, users can easily switch to the previous sound engine in the set-up options).
Notable changes and improvements:

More audio formats supported: mp3, flac, m4a (iTunes), wma, wav, aiff & ogg.
Auto-detection of MIDI controllers providing custom integration.
In addition to the many controllers already supported, 1.7 adds:
1. Hercules DJ Control MP3 E2
2. Synq DMC-100
3. iCON i-DJ American Audio DP2
4. Dj-Tech DjForAll

New multi-language help system: ENG, FRA, GER, ITA, NED and SPA
New dialog box for batch analysis of files in directories
New Image-Line GrossBeat (time-based audio manipulation effect) comparability.
Editions: Deckadance 1.7 is available in two retail editions: Deckadance Club Edition (with full functionality) and Deckadance House Edition that excludes the timecoded vinyl/CDJ transport control functions. For hardware manufacturers that would like to bundle Deckadance with their DJ products there is a custom LE Edition (please contact Image-Line for more details).
Price and availability: Deckadance can be purchased online. Regular prices of 179 USD (Club Edition) and 99 USD (House Edition).
A fully functional demo version of Deckadance 1.7 (Club Edition) is available for free download on Image Line's Download Page.
About Deckadance:
Deckadance is a DJ mixing application, officially released in May 2007. It is a fully featured application designed for creative DJ performance. Deckadance can be controlled using most existing MIDI controllers and time-coded vinyl and CD systems (it can also 'learn' systems not already supported).
Deckadance works as a standalone program or as a VSTi plugin inside any VSTi compatible host. Deckadance can itself host any VST-compliant softsynth or effect for unlimited creativity and expandability. Check http://www.deckadance.com for more information and features details.
About Image-Line Software:
Established in 1994, Image-Line Software provides high quality music applications to the computer-based music community and is well known for its leading digital audio workstation FL Studio (formerly FruityLoops), high quality synthesizers including Sytrus, PoiZone,Toxic Biohazard, Morphine, Ogun and Sawer, a mix of innovative Effect plugins like Maximus and Hardcore and range of sample libraries used in their multi-sampler plugins DirectWave and Soundfont Player. In May 2007 Image Line Software released its acclaimed DJ mixing software application Deckadance. In addition to its audio software, Image Line Software develops and distributes the web site building application, EZGenerator.
For more information, please contact:
Scott Fisher begin_of_the_skype_highlighting     end_of_the_skype_highlighting, Communications Manager
Image-Line Software
E-mail: press [AT] image-line [DOT] com
http://www.image-line.com/documents/press.php
###