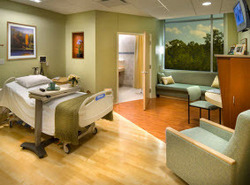 The solution will enable Sentara's nurses to monitor patient rooms, video conference into rooms if needed by...
Norfolk, VA (PRWEB) July 28, 2010
ipConfigure announced today that their flagship product Enterprise Surveillance Manager has been deployed by Sentara Hospital as a comprehensive remote monitoring solution.
ipConfigure partnered with Johnson Controls to expand the existing A/V system and develop a more comprehensive nurse monitoring and video conferencing solution for Sentara Leigh Hospital in Norfolk, VA. Johnson Controls choose ipConfigure to modify its ESM software to accommodate the requirements that Sentara issued in a public RFP in 2009. The project uses standard IP cameras from Axis Communications in the patient rooms and at the nurse station. Bi-directional audio, alert signaling and camera pan, tilt and zoom functions are controlled via ESM's browser based interface.
The solution will enable Sentara's nurses to monitor patient rooms, video conference into rooms if needed by bedside clinicians or patients, view the patients in low light conditions and increase overall patient safety. By having the cameras in patient rooms, it allows the remote RN to validate incoming electronic data immediately rather than engaging the bedside staff, thereby not adding to unit workflows.
The new solution will allow Sentara to continue to build and develop their remote patient monitoring program, as the software and equipment is adaptable to modification as needed. Already, the initial deliverable will serve as a platform to allow for future development of a remote physician call feature as well as secure video conferencing for visitors.
"Hospitals and healthcare organizations around the country are looking to leverage technology to reduce cost and improve staff efficiency. We have seen a swell of interest in our software from healthcare concerns lately. I think they are realizing that using our software and standard IP cameras is more cost-effective, flexible and scalable than proprietary telemedicine software and health cart cameras" said Steve Lewis, Chief Operating Officer of ipConfigure.
About ipConfigure
Founded in 2003, ipConfigure is a privately owned software company and a leading developer of enterprise IP video surveillance solutions. ipConfigure has successfully deployed systems in facilities ranging from nuclear power plants to universities all based on a non-proprietary architecture which supports third-party IP cameras, servers, storage, and switching hardware. ipConfigure is committed to an open architecture and will continue to facilitate the convergence of physical security and IT technologies by integrating both building and life safety systems through a seamless enterprise solution.
# # #