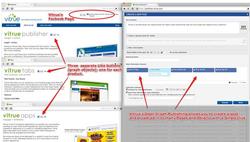 We've been saying for some time that Facebook is becoming the operating system of the Internet and the Open Graph system truly epitomizes that
Atlanta, GA (Vocus) July 27, 2010
Vitrue (vitrue.com), a leading social media management company, announced today its newly enhanced Vitrue SRM (Social Relationship Management) Platform that includes a powerful and enhanced publishing product -- Vitrue Publisher 2.0 -- which fully supports Facebook's "Open Graph" publishing allowing marketers to create individual and segmented messages that instantly post and broadcast to every brand connection across the web with a single click.
The Vitrue Publisher 2.0, which is part of the industry-leading Vitrue SRM Platform, gives marketers a powerful publishing tool that can instantly post, schedule, moderate and measure social media communications all from one centralized dashboard – and now linked completely to Open Graph across the entire web.
Vitrue SRM Facts & Figures: The platform has managed more than 174 million Facebook "fans" (connections), over 600 Pages across 47 countries; has created more than 28,000 posts, with 22 million clicks, 300,000 shares and 1.2 million audio/visual plays; and is moderating over 850,000 posts and 12 million comments and likes. The Vitrue SRM is currently being used by global brands like McDonald's, Best Buy, Kellogg Company, AMC Theatres, Project (RED) and 3M, to name a few. The platform serves roughly one quarter of the Top 100 brands as measured by Interbrand.
"We've been saying for some time that Facebook is becoming the operating system of the Internet and the Open Graph system truly epitomizes that," said Reggie Bradford, CEO of Vitrue. "Marketers now can connect and communicate with their audiences at every touch point on the web – Facebook, websites, email newsletters, blogs, you name it –allowing marketers to fully connect and leverage what being social on the web is all about. It's comprehensive, turn-key, instant and will increase your brand's social value immediately."
The Vitrue SRM Platform consists of three main products: Vitrue Publisher, Vitrue Tabs and Vitrue Apps. The newly enhanced platform is bolstered most by the Vitrue Publisher 2.0 product which delivers visually engaging content and applications directly to fans' news feeds, as well as schedules, moderates and measures your posts, all tied to the Open Graph. In addition to the new Open Graph functionality key features of the Vitrue Publisher 2.0 including the following:

One-Click, Multi-Stream Posting: Vitrue Publisher 2.0 delivers messages/content instantly with a click of a button, providing engaging and interactive content that ensures your fans will talk back. Publisher also allows marketers to post to multiple streams at once. From one simple interface marketers can select from one to hundreds of streams to publish with the click of a button.
Robust Asset Manager: Images, audio, video, polls and coupons are organized in an "asset manager" section for easy reference and access. Access hundreds of assets from within your publishing workflow.
Wall Apps: Vitrue Publisher 2.0 Wall Apps are delivered directly through a user's news feed/Wall, where Vitrue research shows 110X greater reach and engagement as opposed to posting on a tab. Wall Apps delivers dynamic, rich media applications such as coupons, polls, videos and quizzes that you can easily compose and distribute instantly for optimal engagement and sharing.
Scheduling Capabilities/Advance Moderation: A time-saving scheduler in the Vitrue Publisher 2.0 streamlines the posting process, allowing marketers to automatically publish content to Facebook and Twitter, as well as schedule posts ahead of time giving marketers more flexibility and control of their communications.
Advance Moderation: Vitrue Publisher 2.0 can monitor all your social media content from one easy panel allowing you to control/monitor content on your social networks. Marketers can create multiple "Word Lists" to automatically flag (and delete if you so choose) posts that contain certain words or parts of words. You can even color-code the posts according to which "Word List" flagged any particular post.
Metrics: Vitrue Publisher 2.0 provides real-time, up-to-the-minute analytics, allowing marketers to be on top of response management. Tracking KPIs per post such as clicks, likes, comments, shares, audio/visual plays, data collection and app actions, among other critical word-of-mouth metrics. Publisher also improves performance by tracking fan growth and user-activity details. Marketers can also setup custom branded short URLs and avoid the pitfalls of the public URL services.
Additional staples of the Vitrue SRM platform empower marketers with tools such as geo-location (global), localization and language detection, as well as implementing a single tab. Vitrue Tabs also provides access to our engagement apps such as coupons, polls and email acquisition. Vitrue Tabs offer marketers a tremendous value in terms of acquiring fans through fan-gating their tab as well as creating an effective landing page for campaigns in support of a Facebook media buy.
About the Leading Social Media Management Company's, SRM Platform:
The industry-leading Vitrue SRM is a global platform delivering a comprehensive, turnkey solution for brands to manage and maximize value on social media networks and across the web. The Vitrue SRM provides rich features and functionality, rapid deployment, and solid infrastructure for optimal performance all in one simple dashboard interface. The platform consists of three main products: Vitrue Publisher, Vitrue Tabs and Vitrue Apps.
For more news and information about Vitrue visit vitrue.com/press-room/2010-press-releases
###