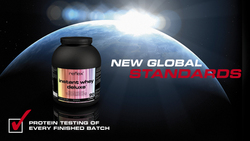 the first and only to assay protein content on all protein powders
(PRWEB) July 28, 2010
Reflex has undeniably taken the global lead in setting the very highest standards of formulation and quality assurance in the supplement market.
Setting New Standards Globally
The World's finest whey protein powders, made by the UK's No.1 sports nutrition manufacturer since 1996. Made to deliver results and independently verified by the UK's most prestigious labs.Reflex supplements have been the choice of hundreds of thousands of people who demand not just guaranteed quality but supplements that deliver more.That means more active ingredients, higher levels of protein, less additives and impressive innovation.
From the unbeaten levels of protein in our powder products to the multi vitamins that contain unmatched potency and range of micro nutrients, Reflex products are simply in a league of their own.
Every single protein powder we make is lab tested.
Further still, our new ISO Quality Controlled Protein Testing Procedure ensures that the products are delivering exactly what is claimed on the label. This thoroughly new protein testing procedure has been implemented by our R&D team to clearly demonstrate our unwavering commitment to quality control and ever increasing commitment to our valued customers. It entails rigorous, and exact, testing of every single batch of protein powder we manufacture using an ISO17025 accredited procedure.
No other company in the world of sports nutrition does this; it's another industry first from Reflex Nutrition.
The sports nutrition market has become a crowded market place with numerous companies offering protein powders with varying degrees of protein. Worryingly for the consumer some products do not meet their label claims. Seemingly such companies are either unaware of their shortfalls or are doing so purposely to increase their profits. As mentioned, huge importance is placed on quality control at Reflex Nutrition, being the first for ISO9001 Quality Control, and now the first and only to assay protein content on all protein powders.
Made in Britain by Reflex Nutrition, Tomorrow's Nutrition Today.
###