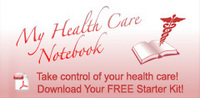 I wrote this book because I felt, as a 75-year-old woman who has endured numerous misdiagnoses and medical encounters, that people need to understand why the medical system is the way it is today and be given a roadmap to help them navigate the health care system and their relationships with health care providers
Indianapolis, IN (PRWEB) July 29, 2010 —
Health care consumers concerned about changes coming as the result of national health care legislation—take note. The new nationally released book Sick of Doctors? Then Do Something About It! A Prescription for Patient Empowerment by Lorene M. Burkhart is now available in soft cover and ebook download. A FREE health care notebook starter kit is now available for download in conjunction with the national release of the book at http://www.myhealthcarenotebook.com.
About Sick of Doctors? Then Do Something About It! A Prescription for Patient Empowerment
The groundbreaking health care management book provides practical how-to tips designed to empower patients. Five years in the making and countless interviews with patients, physicians, nurses and other medical professions have led to this easy-to-read text from which consumers and professionals will:

Be reminded that the old days of health care are gone.
Hear from doctors who are great examples of professionals.
Discover how to shop for the right doctor in today's health care system.
Uncover doctor traits that could raise a red flag in your relationship.
Consider alternatives in health care that are recent trends in the system.
Prepare for the future with an insightful look from a medical professional.
The 11-chapter, 196 page, soft-cover book published by Indianapolis-based Curtis Publishing is available at http://www.SickOfDocs.com/store for $15.95. The ebook is available for download at Amazon, Sony or iTunes for $9.95.
About the FREE health care notebook
The health care notebook is the result of input from medical consumers who have read the book and attended speaking engagements about health care empowerment. The free download includes information explaining the concept of the notebook is, how to start one, a general health care information form and tabs to help build a binder. Burkhart says, "While it seems intuitive in today's digital age to have an online medical notebook system, we conducted consumer research to find out which system people prefer. Medical consumers told us they were concerned about privacy online and want paper systems for safety and portability. Doctors say they prefer a quick reference book in the notebook format."
About the Author
Lorene M. Burkhart is a 75-year-old successful Indianapolis businesswoman, publisher and journalist, who began researching the topic of doctor patient relationships to learn more about how she could become a better patient. The more people she interviewed and more research she read, she decided to turn her insights into a book. Burkhart says we are all patients from the time we are born until the time we die. The question is: What are we doing to empower ourselves in a medical culture that historically leaves us doing what the doctor recommends?
"I wrote this book because I felt, as a 75-year-old woman who has endured numerous misdiagnoses and medical encounters, that people need to understand why the medical system is the way it is today and be given a roadmap to help them navigate the health care system and their relationships with health care providers," says Burkhart.
Burkhart has published six books since turning 70. They include two books about growing up on a farm and three children's books.
# # #