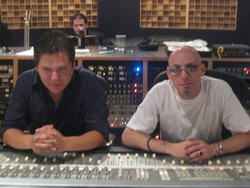 "It's New York City without the White Noise" says Producer Ken Goldfeder. Perfect for the serious minded clientele who wish to remain in the creative spirit without the distractions Manhattan often affords.
New York, NY (PRWEB) July 28, 2010
Located in the Queens neighborhood of Long Island City, http://www.oasysmusicgroup.net [OASYS MUSIC GROUP takes suite in the Spin Recording Complex.
Owners Ken Goldfeder and Alex Morelli invite you into their pod-based production suite, where the magic of creativity, talent, drive and a proven track record of excellence and camaraderie begin........and end in a final product that will get the attention it deserves.
The 650-square-foot live room features a striking staggered ceiling, open well-controlled acoustics, and the famed former Bearsville Yamaha C6 grand piano. A newly acquired 68-channel SSL 4064G/G+ console is the center piece of the highly comfortable 450-square-foot control room. Meanwhile, a well-equipped B room with an Amek 44-channel console and Pro Tools HD3 handles the overflow. The four production suites each contain their own vocal booth with a common lounge and kitchen. There is also an expansive rooftop to recharge your creative juices in between sessions.
OASYS MUSIC GROUP is the result of a merger of Oasys Recording Studios and ETV Productions. In addition to the Long Island City location, OASYS MUSIC GROUP has a secondary location in West New York, New Jersey with attractive rates within a short distance from Manhattan.
Ken Goldfeder is an accomplished composer and producer with some highly acclaimed work in the demanding world of TV, film, commercials and record production. Credits include Madonna, Trent Reznor, Sony Records, Interscope Records, Amira, and Primitive Puppet. Alex Morelli is a producer and studio manager at OASYS MUSIC GROUP. As a professional musician, songwriter, engineer, producer and arranger, Alex is very versatile at producing many styles including Rock, R&B, Hip Hop, World, Jazz, and Advant Garde. He has had the pleasure of working with top notch artists, producers and labels such as: Sony Music, Interscope Records, Vinny Nicoletti, and Universal Records.
Services
Music Production (see website for full list)
Equipme nt
SSL G/G+ 4064, Pro Tools HD-2, Genelec 1034B mains (See website for full list)
Rates - (see website)
Contact
1-646-770-1194
Please Visit Us On
# # #