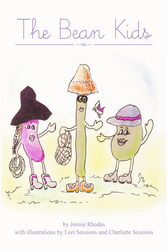 Enterprise, AL (Vocus) July 28, 2010
The Bean Kids, a new book by Jennie Rhodes, has been published by RoseDog Books. The Bean Kids was created by Jennie Rhodes as a way of entertaining her grandchildren during visits. The development of the actual manuscript was inspired through years of telling stories and revising them according to the reactions of the children. If laughter and amazement were shown, the story was retold many times.
Jennie taught first and second grade for eighteen years in Enterprise, Alabama. In that time, she read hundreds of children's books and told numerous stories. As an activity in the classroom, the students wrote stories of their own and read them to classmates. It was evident that children enjoyed exploring and developing their own ideas, and it proved to be entertaining to others as well.
It is the belief of this storyteller that anyone can use his or her imagination to relate well with others. It is gratifying to the soul to express thoughts orally or in the written word as with The Bean Kids.
Jennie Rhodes is a native North Carolinian who retired from a career in elementary education and lives with her husband, Hugh, in Enterprise, Alabama. They have four children between them and twelve grandchildren, whose ages range from one to fifteen. She has enjoyed entertaining her grandchildren and others with stories such as The Bean Kids as well as stories of family members and family situations.
Writing stories and poems has been a lifelong hobby of Jennie's. She has lived in many states and in Germany and has drawn inspiration from these experiences and people she met in these places.
The Bean Kids is a 32-page full-color paperback with a retail price of $20.00. The ISBN is 978-1-4349-9735-7. It was published by RoseDog Books of Pittsburgh, Pennsylvania. For more information or to request a review copy, please visit our virtual pressroom at http://www.rosedog.com/pressroom or our online bookstore at http://www.rosedogbookstore.com.
###