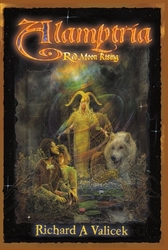 (Vocus) July 28, 2010
In a classic tale of good versus evil, Alamptria: Red Moon Rising (published by AuthorHouse) takes us back to the 15th century in a land of knights and mythical creatures. The people of Alamptria are under threat of the dark lord's evil forces and his legion of vampires.
The dark lord is attacking the land of Alamptria and the entire human race by infecting the people with his blood. The infection transforms humans into the undead, who serve the dark lord and his evil plan.
When the former king is brutally murdered, terrible repercussions arise for everyone in the underworld. It's up to the king's sons, the Seaton brothers, to defeat the undead and save the human race from evil. Caprius, Dragus and Andromin Seaton hold a power that the other knights do not – the Vim of Petoshine. This power helps the brothers destroy the evil that has infiltrated their lands and fight against the dark lord.
The princess, Melina Lumis, is fooled into marrying the dark prince of vampires and is taken to a far off land to give herself to the world of the undead. But Melina's true soul mate, Caprius, is quick to come to her rescue. He and his army race against the sunset to save her and the people of Alamptria from the vampires.
To find help, the Seaton brothers journey across the land for advice from the great wizard. The wise, experienced wizard knows all about the troubles the people of Alamptria are facing. He gives specific instructions to help the brothers defeat the evil forces and save their city. The battle ensues as Capruis and his brothers fight to save Melina and destroy the vampire army.
Alamptria's combination of both fantasy and horror makes it appealing for several audiences. This intricate plot keeps readers on the edge of their seats as vampires and mystical creatures appear around every corner. Alamptria vividly describes the land and people, allowing the fight against evil to come alive.
Richard A Valicek was born and raised in Toronto, Canada. He graduated from George Brown College. This is his first book with sequels to follow.
AuthorHouse is the premier book publisher for emerging, self-published authors. For more information, please visit http://www.authorhouse.com.
###