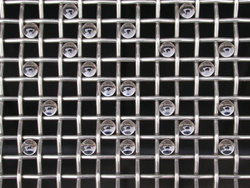 The reputation of sieving as a method of particle size analysis has been enhanced with the introduction of glass calibration microspheres.
Fairfax, VA (PRWEB) July 29, 2010
CSC Scientific announces the introduction and support of a new system for the specification, evaluation, and performance tracking of test sieves. The Company expects the system of calibrated glass microspheres and inspection procedures to revolutionize the analysis of test sieve performance.
Sieving a process that uses test sieves, is sometimes referred to as the Cinderella of the particle-size analysis, because it performs most of the work but gets little of the credit.
New high-tech processes of Sedimentation, Laser Diffraction and Image Analysis get most of the headlines. Issues affecting the universal implementation of these methods vs. sieving are high instrument cost, complex calibration requirements, extensive operator training and procedural discipline - so sieving continues to be a workhorse.
Occasionally, sieving has earned a bad name because tests have been performed with sub-par sieve mesh. Consequently, much has been made of obtaining sieves certified via ASTM or ISO mesh standards.
Standards Associations such as ASTM and ISO spell out procedures to test for the adequacy of the mesh and to certify that a sieve meets their standards which standards permit somewhat wide tolerances . The process is based on optical techniques, a sampling approach that observes a small number of openings. The inspection or certification report does not yield a prediction of how a certified sieve will perform in a particle size test, rather it is an insurance policy establishing that the mesh is within a the prescribed standard.
When sieve testing is used to monitor a critical production process, the condition of a sieve needs to be regularly measured and compared to a traceable recognized standard.
Until a few years ago the ASTM/ISO type certification procedure was nearly the only means to accomplish this condition assessment and to insure traceability. With the introduction of glass calibration spheres by Whitehouse Scientific, a new, easy and quick method of sieve calibration become possible.
Whitehouse Scientific invested nearly three years to develop glass microspheres, sometimes referred to as calibration beads, that meet exacting standards. These calibration spheres are sized to within +/- one micron and can be traced to a NIST standard.
The calibration method developed using these spheres exposes at least 80 % of a sieves openings to the calibration process. The resulting certificate provides traceability and even more importantly provides a predictor of performance in comparison to other sieves, a single number, a mean sieve opening.
After a comprehensive evaluation of the performance this Sieve Calibration System, CSC Scientific is recommending the use of this method to its customers, as both initial certification of a sieve and as the main method for periodic calibration of sieves. . Because this sieve calibration technique gives both a traceable result and a reliable comparative predictor of performance, the Company suggest that the Microsphere System be used exclusively in sieve selection, establishing in-company production standards and external base lines for quality program assessment.
CSC Scientific announces the immediate availability of the Whitehouse Scientific sieve calibration system and calibration microspheres. CSC Scientific has been providing advice and equipment for critical sieve testing applications for more than 20 years.
CSC Scientific Company specializes in the measurement of particle size, moisture and surface tension. Because of this specialization a prospect can get in depth experience-based advice on their measurement problems. For more information visit http://www.cscscientific.com
Media Contact: Art Gatenby, CSC Scientific Company, Inc. (703)876-4030, artgatenby(at)cscscientific(dot)com.
###