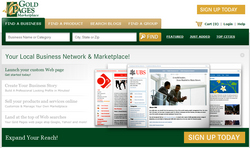 "The revenue potential is one of the best things about this partnership," said Amber Jones
Rapid City, SD and Philadelphia, PA (PRWEB) July 29, 2010
Gold Pages announced this week that it has selected 7Mainstreet (http://www.7Mainstreet.com) to power its South Dakota yellow pages directory Web site, http://www.goldpagesmarketplace.com and drive leads to local advertisers. http://www.goldpagesmarketplace.com will now feature local business yellow pages search, e-commerce and social networking capabilities from 7Mainstreet, designed to help boost sales for Gold Pages advertisers and attract a greater online consumer audience.
"The revenue potential is one of the best things about this partnership," said Amber Jones, president of Gold Pages. "It appeals to our advertisers who appreciate expert help in getting up to speed on e-commerce and other online tools that can expand a business's reach and increase its revenues." According to Jones, Gold Pages has worked with other online platforms in the past, but never one that offers the support, the training and the opportunities that 7Mainstreet brings to the table. "When we're successful 7Mainstreet is successful, so we're very confident in their delivery, in their support and in the platform."
There is a tremendous opportunity to connect with local consumers online. According to a recent survey by local media advisory firm BIA/Kelsey and research partner ConStat, nearly all consumers (97 percent) now use online media when researching products or services in their local area.
7Mainstreet is an interactive online advertising platform that significantly enhances the familiar online Yellow Pages directory by adding e-commerce storefront features like those found on eBay, plus social networking features similar to those of Facebook. The result is a new yellow pages business directory environment in which businesses large and small can connect with and sell their products and services directly to online consumers. While other online yellow pages directories offer businesses an address listing with a few lines of copy, a company logo and a map, 7Mainstreet.com offers a complete Web site with robust e-commerce capabilities, blogging, videos and photos, networking opportunities, search engine optimization and more.
"7Mainstreet transforms a simple yellow pages business listing into a multiple page 'brochure' web site that has an actual online storefront that sells products, educates consumers and opens up social networks with peers and business associates," said Andy Leff, CEO, 7Mainstreet. "We're incredibly proud to be the only online yellow pages directory and yellow pages sales platform to develop the technology that makes this possible."
For local online advertisers, setting up shop on 7Mainstreet is a simple process and, unlike existing online directories, it offers more than just a simple yellow pages business listing containing the address of the business. Businesses can populate their multi-page profiles with a customized design that reflects a company's brand while enhancing its chance to be found through major search engines through local search engine optimization techniques.
Customers of Gold Pages now will be able to find some of their favorite local South Dakota businesses in their local cities and towns in the goldpagesmarketplace.com directory. Those looking for their favorite restaurants in Keystone, SD can find them at http://www.goldpagesmarketplace.com/bcs/keystone-sd/restaurants/33000000. If you need a local lawyer in Box Elder, SD customers can now find them here, http://www.goldpagesmarketplace.com/business-categories/box-elder-sd/legal/10. Any customers who need help finding a plumber can also use the directory and browse plumbers in Rapid City, SD by clicking here, http://www.goldpagesmarketplace.com/bcs/rapid-city-sd/plumbing-contractors/16001000. Those in Rapid City, SD looking to relax can do so by checking out the customized listings from local Massage Therapists in Rapid City, SD, http://www.goldpagesmarketplace.com/business/mind-over-body-massage/rapid-city-sd-57702/689713665. And visitor's coming to South Dakota can always visit Mount Rushmore near Keystone City, SD, http://www.goldpagesmarketplace.com/bks/sd/mount-rushmore.
Jones said that Gold Pages sales representatives especially appreciate that 7Mainstreet follows through with communication and sales support. "7Mainstreet makes our reps feel comfortable about selling online. They're helping us develop localized sales collateral to get out to the advertisers. They're providing the reps with great talking points. As a result, our reps really feel the support when they are in sales calls."
About 7Mainstreet and 7MainIdeas
Using the 7Mainstreet e-commerce technology, advertisers can attract customers who might not live close enough to the brick-and-mortar business to shop there. And advertisers can get helpful customer feedback, and drive more traffic through blogs, groups and other interactive tools. Publishers interested in having a branded online yellow pages business directory can contact 7Mainstreet to discuss a partnership with their brand.
To promote 7Mainstreet's innovative online platform to independent yellow pages publishers, the company has partnered with AD Ideas, a San Antonio-based agency serving the Yellow Pages industry with production, creative services, and sales consulting services. The two firms have formed a joint venture called 7MainIdeas to market the 7Mainstreet platform to independent Yellow Pages directory publishers.
To learn more about the Gold Pages 7Mainstreet partnership or the 7Mainstreet platform for Yellow Pages directories, contact Andy Leff at info(at)7mainstreet(dot)com or (888) 466-7774 Ext. 1011.
Contact:
Andy Leff
(888) 466-7774 Ext. 1011
info(at)7mainstreet(dot)com
###