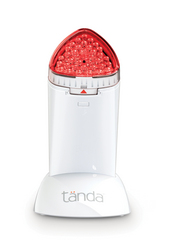 The result is plumper, firmer and more youthful-looking skin. 92% of users reported softer, smoother and more radiant looking skin¹
(PRWEB) July 29, 2010
What it is: A powerful combination of natural light to rejuvenate the skin from the inside out with natural topical products to revitalize from the outside in.
Combining the cutting edge Tända Regenerate red light therapy with the Skyn Iceland topical anti-aging skincare regime is easy:

Cleanse with Skyn Iceland Glacial Cleansing Cloths
Apply the Tända Regenerate Pre-treatment Gel
Treat with Tända Regenerate Light Therapy
Day Moisturize with Skyn Iceland the Antidote SPF 18 Mineral Sunscreen
Night Moisturize with Skyn Iceland Oxygen Infusion Night Cream
As we age, both deflation and deterioration make us look older than we feel or want. Deflation, a loss of volume, is caused by a reduction in collagen levels. Deterioration shows up as rough texture, overall dullness, redness, fine lines and wrinkles.
Tända Regenerate light therapy addresses all of these signs of aging by actually making your skin behave younger - boosting overall cellular energy, increasing the production of collagen and elastin and increasing microcirculation. The result is plumper, firmer and more youthful-looking skin. 92% of users reported softer, smoother and more radiant looking skin¹
Skyn Iceland is the first skincare line created to address the effects of stress on skin. Since stressed skin is damaged skin, it needs to be soothed, healed and replenished to regain its natural health and radiance. In Iceland's pure, untouched environment new, beneficial botanicals have been discovered and pristine Icelandic glacial waters used, which helped us to create the perfect antidote for stressed skin.
"The beauty of the Tända Regenerate Anti-Aging Solution is that it can be used easily with a customer's existing skincare regimen," says John Kennedy, President of Pharos Life Corporation, owner of the Tända brand, "It's easy for fans of the Skyn Iceland line to combine their much-loved products with the benefits of the Tända Regenerate red light for fantastic anti-aging results!
About Pharos Life:
Pharos Life Corporation is the world's largest developer and manufacturer of hand held light therapy products. Sold under the brand name Tända, products include treatments for acne, anti-aging and pain management. The company is dedicated to the development of innovative light-based technologies and the supply of affordable, at-home, non-invasive light therapy solutions that improve wellness and quality of life.
For more information
Rose Mastnak ext. 258
Courtney Turner ext. 262
Pharos Life Corporation
519.651.1177
###