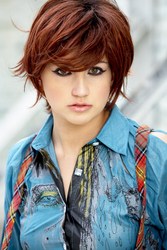 Add a quote"The moment I heard Anabel sing in my studio I knew there was something special about her and her voice," said songwriter and producer Bryan Todd. "Her voice posses a strength, maturity and quality that go beyond her years. I'm very excited I
Hollywood, CA (PRWEB) July 28, 2010
Anabel Romero and her dance single Warning entered the US music scene recently with an impressive breakthrough title that charted as a top breakthrough on Billboard Magazine's Dance Club Play Chart back in May 2010 and quickly climbed the competitive chart where it currently stands in the top 30. Anabel Romero's Warning has been sharing the popularly viewed dance chart with singles from Christina Aguilera, The Black Eyes Peas, Lady Gaga, Katy Perry, Scissor Sisters, Farrell, Macy Gray and Rihanna. This is an impressive feat considering most of the dance singles on the Billboard Chart are backed by record labels such as Capitol, RCA, Interscope, Universal, Columbia and Def Jam.
Warning was written and produced by Bryan Todd and Smidi for BT Entertainment and was remixed by John Rizzo, VanConkrite and Mark Picchiotti. TS Records is the independent label behind Warning.
"The moment I heard Anabel sing in my studio I knew there was something special about her and her voice," said songwriter and producer Bryan Todd. "Her voice posses a strength, maturity and quality that go beyond her years. I'm very excited I got a chance to work with her so early in her career." Bryan Todd's has written songs for Jordan Sparks, Ashley Tisdale and Miley Cyrus.
"I'm so happy to be recording music and singing," said Anabel Romero. "I've always wanted to sing and I'm just so happy that I now have a chance for people to hear what I can do. I'm very lucky and I'm thrilled that my single Warning is on the Billboard Dance Chart."
Anabel Romero who is about to turn 19 years old was raised in New Rochelle, New York. She is the youngest of four and the first of her family to be born in America. Anabel's parents are Colombian and have lived in the United States for the past 22 years but they frequently travel back to Columbia with their children. As a result of this, Anabel grew up with several cultural influences that have definitely contributed to her music.
For more information go to http://www.anabelromero.com or http://www.tassteinerpr.com
###