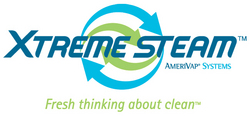 Dawsonville, GA (Vocus) July 28, 2010
Amerivap Systems Inc, a pioneer in dry s team vapor cleaning and sanitizing technology, has experienced significant growth over the past few years necessitating a move to a much larger 25,000 square foot distribution center outside of Atlanta, Ga. The growth has been in part due to increased interest in sustainability, water conservation and "green cleaning" solutions by industries as varied as food processing to pharmaceuticals. The company's line of dry steam vapor cleaners, notably the Xtreme steam line of industrial cleaners, effectively kill 99% of pathogenic bacteria using no chemicals, while at the same time using a very small amount of water, thereby conserving water and lowering waste water amounts.
Long a pioneer in product development, the company's founder, Werner Diercks, sees an opportunity in using the expanded space available to grow its internet presence, notably its webinar program aimed at not only new product sales, but also existing client support and maintenance as well as new client training.
According to Diercks, the webinar program will enable the company to reach customers around the globe in any time zone or location to demonstrate the power of the dry steam vapor units, including the steam/vacuum Houdini conveyor belt cleaning system. Recent webinars have been conducted with clients in Israel, Argentina, and Brazil.
However, the company realizes that a webinar, or any web based demonstration must be of the highest caliber to be effective. That is why the company's CIO, Herman Thompson, has been in charge of the effort and outfitted the webinar facility with only the highest quality equipment. According to Thompson, the state of the art dedicated facility enables Amerivap to conduct live broadcasts as well as video conferences using the company's broadcast service for corporations with multiple locations.
But the real key, according to Diercks, is that by using the power of the web, the company can conserve valuable resources. "For a long time now, we have been proponents of conserving natural resources in cleaning and sanitizing. It is now time to take our social responsibility to the next level and use the web to limit travel and its associated impact on the environment where we can. Our webinar program will enable our sales and support staffs to conserve resources while at the same time give real-time, high quality demonstrations."
Amerivap Systems is committed to delivering environmentally friendly, fully sustainable cleaning solutions to industries as diverse as food processing and packaging to the pharmaceutical industry.
For more information, or to sign up for one of the company's webinars, visit http://www.amerivap.com.
###