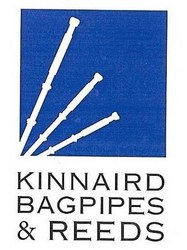 So You Want to Learn to Play Bagpipes
(Vocus) July 29, 2010
The Great Highland Bagpipes are a traditional Scottish instrument that has been around for centuries. It is a complex instrument with 13 wooden parts, a bag, reeds, cords, and many decorative mounts. A new set of Blackwood bagpipes cost around $2000 or more depending on the maker and ornamentation. Buyers trying to find a deal online may meet unscrupulous retailers. Kinnaird Bagpipes now offers free tips for what one needs to know when wanting to learn to play the bagpipes and what to look for before purchasing.
Bagpipes are a complex instrument. Before starting on the pipes themselves, one begins with a practice chanter. There are many different makes, lengths, and styles available. There are also many different Bagpipe tutor books that are available. These are the basic elements that one needs to prepare to learn the bagpipes. Another important aspect is an instructor. They can help to direct the student with proper technique before moving onto the pipes. Kinnaird Bagpipes offers an article called "So You Want to Learn to Play Bagpipes" which focuses on these items.
After about 6 months or longer, the student will move from the practice chanter to the bagpipes. When purchasing a new set of pipes from a manufacturer, the buyer typically knows where they came from and there is usually a guarantee. Because there are so many options, make sure to compare the same reeds, bag, case, mounts, duty, brokerage, and customs fees when comparing prices. When choosing a manufacturer, consider the quality of the instrument, price, resale, and delivery time. If buying used pipes, consider the manufacturer, condition and completeness of the set, previous repairs, and any restoration work required. Sellers may have difficulty providing detailed information, for instance when the current owner is not a skilled piper.
One of the most common sources for cheaper pipes is eBay. Kinnaird Bagpipes offers a free article that reminds buyers to be cautious when taking this route and what to look for. There are countless stories of people purchasing pipes through auction sites only to receive an inferior product. Many sets listed on eBay are Pakistani pipes which are often made of inferior local rosewood - not African Blackwood. There are also instances of pipes listed as "blackwood" that may actually be another type of wood that has been stained black. Pipes from Pakistan are often poor quality and can require hundreds of dollars of additional products and repair to get them playable. Even is a listing picture shows a maker stamp, it is not always the sign of a good quality set. A stamp on the chanter does not mean that the whole set is from that maker. Ask for close up images of the full set to ensure that the set is matched and of good quality. Even on a good quality set, be aware that parts may have been replaced or repaired over time and may not be in good condition. Ask for this information before purchasing. It's not just Pakistani pipes that are questionable. There are false claims from individuals misrepresenting quality pipe makers as well.
To guarantee a quality instrument, shop with a reputable dealer. Dealers carry used and new sets of pipes ranging from $600 for a basic plastic set to high end silver and ivory pipes over $10,000. Most dealers will have extensive knowledge of used pipes and carry reputable brands. There are reputable pipe makers in Scotland, the UK, Canada, USA, and other parts of the world. McCallum, Naill Bagpipes, Kron, Walsh, Wallace, and Dunbar are quality pipe makers available at Kinnaird Bagpipes. Each has a full line of pipes available to meet any budget from basic sets to full engraved silver sets. Most sets of Great Highland Bagpipes are made of African Blackwood, but some makers are also offering Polypenco pipes. They are less expensive than Blackwood pipes but produce a slightly less refined tone. They offer lower maintenance and are preferred by military and some student bands. Ornamentation options include imitation ivory, imitation horn, Mopani wood, nickel, silver, and many beautiful engraving patterns. KInnaird Bagpipes' free article "Bagpipe Purchasing Basics" focuses on the bagpipes themselves and the various options available.
Kinnaird Bagpipes has bagpipes in stock and offers appraisal services. All parts and maintenance items are available. Rob Kinnaird, Professional Engineer, offers bagpipe repair and restoration. Check out KinnairdBagpipes.com for these free articles and more.
###