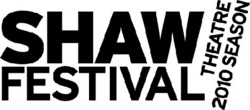 (Vocus) July 28, 2010
Niagara-on-the-Lake, ON Linda Griffiths's Age of Arousal has begun previews at Ontario theatre, The Shaw Festival. Artistic director Jackie Maxwell directs this rousing theatrical production set in a surrealistic Victorian England.
It's 1885, a time of immense passion and confusion, and London faces a population imbalance that leaves it with half a million more women than men. Mary Barfoot (Donna Belleville), an ex-suffragette and proprietor of a secretarial school, leads women to their emancipation through the typewriter. When her lover and business partner Rhoda Nunn (Jenny Young) enrols the three spinster Madden sisters, unexpected passions and secret desires are unleashed as they each learn what being a New Woman can truly mean.
Also featured are Zarrin Darnell-Martin, Sharry Flett, Kelli Fox and Gray Powell.
Age of Arousal is designed by Sue LePage, with lighting design by Alan Brodie, original music and sound design by John Gzowski and movement by Valerie Moore. The stage management team includes Stage Manager Diane Konkin and Assistant Stage Manager Eamonn Reil.
Age of Arousal begins preview performances Friday, July 23, opens Friday, August 13 and plays in repertory until Sunday, October 10. It is sponsored by PricewaterhouseCoopers LLP.
The 2010 season at the popular Niagara-on-the-Lake attraction runs until November 14 and also features An Ideal Husband, Harvey, The Women, The Cherry Orchard, One Touch of Venus, The Doctor's Dilemma, John Bull's Other Island, Half an Hour and Serious Money.
Book by calling 1-800-511-SHAW (7429) or locally 905-468-2172 or online at http://www.shawfest.com.
About the Shaw Festival Theatre
In the spirit of George Bernard Shaw, the Shaw Festival provokes the mind and stirs the soul through a theatre experience so compelling that, year after year, ever-broadening groups of artists, audiences and supporters are drawn to our work in Niagara-on-the-Lake and beyond.
Contact:
Odette Yazbeck
Public Relations Director
(905) 468-2153 or 1-800-657-1106 ext. 2222