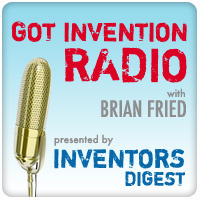 "My goal is to help as many inventors as possible." Brian Fried, Host of Got Invention Radio
Melville, NY (PRWEB) July 29, 2010
Got Invention Radio, a live weekly, Web-cast that provides an information-packed hour of everything "invention," has landed top thought leaders throughout National Inventors Month in August.
Upcoming guests include Kevin Harrington, product developer/author and panelist on ABC's hit show Shark Tank; Martin Cooper, inventor of the cell phone; and Forbes Riley, award winning TV host, author and a 2010 inductee into the National Fitness Hall of Fame.
"Got Invention Radio gives listeners a front-row-seat to ask questions by phone or e-mail and get straight-talk answers directly from high-profile industry experts and successful inventors and entrepreneurs," says Mike Drummond, editor of Inventors Digest. "We're proud to partner with this show and all that it does for the invention community."
Host Brian Fried, the creative force behind Got Invention Radio, launched the program late last year. The show now boasts more than 5,000 listeners a month, reaching inventors and entrepreneurs from Pakistan to Portland.
"As an inventor who has experienced many of the options and decisions that need to be made from patenting to prototyping to bringing products to market through licensing and manufacturing, I recognized that many inventors need quality, trustworthy information to help them through every level of the invention process," says Fried. "My goal is to help as many inventors as possible."
About Got Invention Radio
Got Invention Radio airs live every Thursday at 8 p.m.ET/5 p.m. PT. The show allows listeners to interact with some of the biggest names in the inventing industry. Previous shows also are available for streaming or download anytime through GotInvention.com, or subscribe to the podcast. Visit http://www.gotinvention.com and follow on Twitter, Facebook and LinkedIn.
About Inventors Digest
Inventors Digest, now in its 25th year, is the nation's longest-running media outlet for the inventing industry. Together with sister business units the Emmy-winning PBS television series Everyday Edisons and the Web 2.0 crowdsourcing innovation site edisonnation.com, Inventors Digest fosters the spirit and practice of innovation. The print and online magazine proudly presents Got Invention Radio.
###