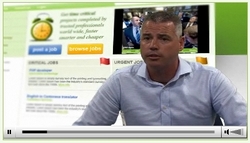 It means you now have the ability to create a virtual workforce, giving you the flexibility to grow or shrink your resource as required, without all the usual HR and staffing issues
(PRWEB) July 29, 2010
This is what they had to say:
"Just imagine a world where you can access a global marketplace of IT&T resource to complete anything you need, at a time that suits you. You can use their expertise whenever you need them and on your terms. You choose Who, When and How."
"Well, welcome to the practical world of working in the cloud. Cloud computing has been thoroughly discussed by the boffins and the 'experts' but now it is time for us the actual users, to get involved. Everyone is talking about it but what does it actually mean for you?"
"It means you now have the ability to create a virtual workforce, giving you the flexibility to grow or shrink your resource as required, without all the usual HR and staffing issues.
If you can do this seamlessly and affordably then you now have an advantage – you can bid for that extra work that was previously out of reach. You can turn your business into a 24/7 working machine while still having time for yourself, your family, your life."
"Take advantage of this new, modern way of working and impress your clients with your forward thinking and ability to get the job done on time and to a very high quality. All the while you are making more time to spend with them, face to face, or screen to screen while working in the cloud"
This all seems a little futuristic, is it really possible for the average business owner to tap into this global expertise?
"Absolutely! With the technology available today it is now easier than ever to take advantage of this style of working.
While it might feel a little futuristic at first glance, this style of working is now becoming common place and in my opinion will really start to explode over the next 2-5 years.
Just take a look at the way kids are learning and working today. Speak to your Son, Daughter or Grandchild. Or speak to the shop where you bought your PC or laptop. Technology advances every day. The advantages for your business are numerous and all are attainable right now so why not give it a go?"
So, where would you start if you were interested in finding out more?
Wikipedia is a great place to start if you want to understand the jargon. If you want to get straight to it, there are several sites that can help to put you in contact with professionals to complete your work which you can find through Google. We looked at many of them in the early days but decided they were too complicated, too time consuming or took a cut for each piece of work that was completed.
We decided that there was a better approach and developed GlobalNite - A simple solution that keeps YOU in the drivers seat."
"It has a simple subscription model and no hidden fees. GlobalNite is the only truly global "cloud" space for you to advertise for your IT&T recruitment needs, and to hook into the global village to get these skills you need to meet your business deadlines. It's like a Dating agency but for business. You advertise, professionals apply and as soon as they do that you get their details. If you like them you can use them straight away, if you don't then use the next one."
Mark, you talked about the pricing model above. I've checked out the website and it almost seems too good to be true at just USD$500 for 12 months unlimited advertising. What's the catch?
"Quite simply, there is no catch. GlobalNite is a new IT&T website and right now we need jobs on the site, so the pricing reflects that. The more work that's put onto the site then the better results everyone will get. We can't hold these prices forever but want to get off to a great start. We have hundreds of contractors signed up – we call them GlobalNiters - and we are growing about 29% percent every month so we want to keep everyone busy.
We are after numbers not percentages; we have 3, 6 and 12 month membership fee which enables you to advertise as much as you want for that period. We do not take any percentages of any works carried out between you and the professional, that way you can set up the contract on your own terms."
That's a pretty refreshing approach and it sounds like it will work well. Now Matt, you also mentioned something about earning commissions from home earlier … what's that all about?
"I'm really excited about this one. As well as having an awesome site to outsource your IT&T works, we have also created a fantastic affiliate program to go with it. This is where you introduce your network of contacts to GlobalNite and each time one of them purchases an advertiser subscription then we pay you a great commission. All the info and tools are on the website. You should check it out by going to the GlobalNite site and clicking on the Affiliate Program tab. I can promise you won't be disappointed with the commission rates."
It's great to learn that these tools are now readily available for everyone to use. Thanks Matt and Mark for explaining some of the advantages that Working in the Cloud can bring for any business.
GlobalNite was founded in 2009 by Matt Bronniman to bring employers and contractors together. For more information about this topic, or to schedule an interview with Matt or Mark, please e-mail them at info(at)GlobalNite(dot)com
###