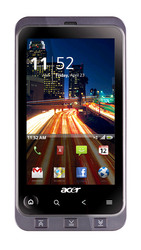 Acer has sneaked up on the competition with this device.
(PRWeb UK) July 28, 2010
The first Smartphone that truly has it all, it has the most advanced technology to date. Boasting cutting edge WiFi N and Bluetooth 3 for speedy data transfer. It makes sending a movie between two phones a job which now takes a couple of seconds.
Made for HD, it is the new wow Android smartphone of the moment. The Acer Stream does everything in HD. Videos can be recorded in HD using the 5 mega-pixel camera and it even has wireless movie playback to watch your creations on your TV wirelessly. This uses the latest AMOLED technology offering more natural colours so it is perfect for playing HD movies.
And when you've finished recording, the built in HDMI port lets you connect your Acer Stream directly to your HD TV to share your movies on the big screen.
Adam Moss, Chief Geek for eXpansys comments: "With its impressive HD recording, playback and Dolby Digital capabilities it's hard to argue with the "HD" part. As a phone, it packs clever features such as " Ambient information" which uses the lock screen to display key information automatically. It is a very exciting launch that includes so much great tech.
"It's a really well rounded phone and manages to be both an excellent media player and phone without comprising either. Acer has sneaked up on the competition with this device. They have not particularly been on the radar for phone technology and now have produced a fantastic piece of kit. At the affordable price of £399 it is really great that we have secured the handset for our customers first."
The brand new, pioneering Acer Stream is launched exclusively in the UK at eXpansys. The online retailer is the first with a number of great gadgets and offers great deals that other retailers can't match. The Acer Stream is available for pre-order now and will arrive first week of August.
###