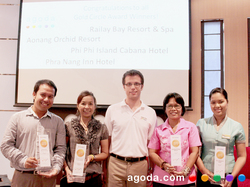 Sinagpore (PRWEB) July 30, 2010
Agoda.com, Asia's global hotel booking site and part of Nasdaq-listed Priceline.com, today announces the names of more winners of the Agoda Gold Circle Awards.
The Gold Circle Awards are given to hotel partners who excel in offering great rates and promotions to Agoda customers, and who received positive reviews from travelers on the Agoda.com site. The awards were inaugurated in 2009 and awarded to properties across the Asia-Pacific region. This year, the awards include properties in Europe and the United States – 164 hotels in total, located in 52 cities worldwide. The awards show recognition to hotels who worked closely with Agoda to create an outstanding online product.
Mr Wilfred Fan, Vice President of Business Development at Agoda, said: "We are delighted to have received such great interest from our hotel partners for this year's Agoda Gold Circle Awards. Recipients of the awards are chosen based on their commitment to developing online distribution channels, how well they make use of all merchandising and promotional tools available via Agoda, and whether they consistently offer great value at a fair price."
Mr Fan, Mr Oliver Libutzki, Regional Director of Market Management for South East Asia and Mr Joern Gosewehr, Market Manager for Thailand and India, are currently presenting awards to the winning hotels across the Asia-Pacific Region.
Some of the latest hotels to win Gold Circle Awards are located in Thailand's picturesque Krabi region. Railay Bay Resort and Spa was one winning property – Mr Weerachoke Waiyarat, Sales and Marketing Manager of the Railay Bay Resort and Spa, said, "Agoda is certainly a professionally-maintained tourism website that is highly regarded in the tourism industry."
"The issuance of coveted awards contributes vastly to the professionalism. I have yet to see another tourism website that presents itself in such a friendly manner and accomplishes so much."
The other winners in the Krabi area were: Phra Nang Inn Hotel, Aonang Orchid Hotel, Phi Phi Island Village Beach Resort & Spa, and Phi Phi Island Cabana.
Three hotels in Samui also received Gold Circle Awards for their commitment to offering a great online product. They were: Amari Palm Reef, Dara Samui, and Kirikayan Luxury Pool Villas & Spa.
Khun Jariyawadee Noppachinwong, Revenue Manager of Amari Palm Reef said, "The team here at Amari is proud and honored to receive this award from Agoda. It is always a pleasure to know when the goals and efforts we strive for are achieved and appreciated. We hope to continue our excellent relationship with Agoda, and to keep welcoming guests to our resort here in Samui."
More Gold Circle Award winners will be announced as the presentations continue throughout Asia. For more information about the Gold Circle Awards or about Agoda, contact pr(at)agoda(dot)com.
About Agoda Company Pte Ltd:
Agoda Company Pte Ltd (http://www.agoda.com) is a leading, Asia-based, online hotel reservations company, which specializes in securing the lowest discount hotel prices. Agoda.com is part of Priceline.com (Nasdaq:PCLN). Agoda's network includes over 7,000 hotels in Asia-Pacific and more than 100,000 worldwide. The multinational staff of 350 professionals, located throughout Asia, provides a first-rate reservation service that uniquely combines local knowledge and local connections to provide the best hotel deals to both business and leisure travelers.
In addition, Agoda customers participate in the Agoda Rewards Program, earning further discounts and free stays. Unlike programs that limit travelers to a single chain, the Agoda Rewards Program allows customers to redeem Rewards Points at thousands of hotels around the globe, at any time. A member of the Pacific Asia Travel Association (PATA), Agoda's aim is to promote travel by making it more affordable and more accessible to more people.
###