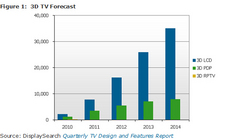 TV manufacturers have managed to launch products very rapidly. We have seen a full range of 3D TVs in sizes from 40
Santa Clara, CA (Vocus) July 28, 2010
A new generation of TVs has reached retail, with 3D models now available from all leading TV manufacturers. DisplaySearch forecasts 3.4 million 3D TVs to be shipped in 2010, with the market expected to reach 42.9 million in 2014. Based on this forecast, 3D TV market penetration is expected to grow from a 5% share of total flat panel TVs in 2010 to 37% in 2014. The emerging 3D TV market is tracked in the latest issue of the DisplaySearch Q2'10 Quarterly TV Design and Features Report.
"TV manufacturers have managed to launch products very rapidly. We have seen a full range of 3D TVs in sizes from 40" to 63" already available, and without a doubt, there will be another wave of new products at the IFA show in Berlin in September," noted Paul Gray, DisplaySearch Director of TV Electronics Research.
"Through the first half of 2010, only two flat panel TV makers in the US launched 3D TV products—Panasonic and Samsung," observed Paul Gagnon, Director of North America TV Research at DisplaySearch. "Based on early indications, the launch of 3D TVs is similar to Samsung's rollout of LED LCD TVs at the beginning of 2009, albeit at a slightly slower pace. This would be in line with our forecast of just over 2 million 3D TVs shipped in North America for 2010."
Despite the forecasted growth for 3D TVs, the consumer electronics industry is running ahead of content availability, as 3D content for TV remains limited to a small number of movies, plus some sports events on pay TV, which are dependent on cable providers. Blockbuster movies in 3D, such as Avatar, will not be available for 3D TV in 2010. In addition, the low penetration of Blu-ray players, and especially HD broadcasts, outside of North America and Japan affects content availability. Consumers may be tempted to wait for the ecosystem to develop in order to have enough material to watch. This, coupled with other significant obstacles for 3D implementation in the home, like consumer perceptions of 3D glasses, remain unresolved.
DisplaySearch research also shows how other technologies, such as LED backlighting, are important. Analyses of the latest energy regulations and the best sets on the market shows how much progress has been made.
"The loss in light output from 3D has made display efficiency a key attention point again. Otherwise, a new generation of power-hungry 3D sets could return the industry back to where it started in energy consumption," Gray concluded.
The DisplaySearch Quarterly TV Design and Features Report is a quarterly update of the issues and rapid shifts in feature development in TV sets. The 200+ page report examines and forecasts video processor and signal processing IC market development, including 120/100 and 200/240 Hz frame rates and market shares for major IC vendors. In addition, the report also features forecasting for MPEG-4 decoding and the digital broadcast environment around the world; TV connectivity, such as wired and wireless networked TVs; LED backlighting; 3D capability and implementation; remote controls and chassis design; and power consumption.
For Q2'10, the report also includes details of key featuring of new 3D models launched by leading TV manufacturers. The Quarterly TV Design and Features Report is the only report to combine all these aspects of a fast-moving market and examine how they interact. It comes complete with a database of TV set featuring for over 200 models in low, mid and high positions in major regional markets. For more information, please contact Charles Camaroto at 1.888.436.7673 or 1.526.625.2452, e-mail contact at displaysearch dot com or contact your regional DisplaySearch office in China, Japan, Korea, Taiwan and the United Kingdom.
Learn more about connected TVs at the TV Ecosystems Conference: Managing the Innovation Cycle. This is part of the DisplaySearch August Conference Series taking place on August 18 in San Jose, California. Confirmed speakers include Sony Electronics, Xpand Cinema, Philips Lumileds, Corning, Panasonic, Rovi, Sonic, the Natural Resources Defense Council and more. To view the latest agenda and register for the conference, visit http://www.displaysearch.com/tvecosystem.
Register Now for Upcoming DisplaySearch Conferences
For more information or to register online, visit http://www.displaysearch.com/events.
DisplaySearch 19th Japan Forum—July 28-29, 2010 (Tokyo, Japan)
Digital Signage Conference—Tuesday, August 17, 2010 (San Jose, California)
TV Ecosystem Conference—Wednesday, August 18, 2010 (San Jose, California)
Emerging Display Technologies Conference—Thursday, August 19, 2010 (San Jose, California)
IFA DisplaySearch Business Conference—September 3, 2010 (Berlin, Germany)
For more information about these conferences and sponsorship opportunities, please contact Laura Castellano at 1.408.226.1101 or laura.castellano at displaysearch dot com.
Media interested in attending the conferences should contact Stacey Voorhees-Harmon at 1.925.336.9592 or stacey at savvypublicrelations dot net.
About DisplaySearch
Since 1996, DisplaySearch has been recognized as a leading global market research and consulting firm specializing in the display supply chain, as well as the emerging photovoltaic/solar cell industries. DisplaySearch provides trend information, forecasts and analyses developed by a global team of experienced analysts with extensive industry knowledge and resources. In collaboration with the NPD Group, its parent company, DisplaySearch uniquely offers a true end-to-end view of the display supply chain from materials and components to shipments of electronic devices with displays to sales of major consumer and commercial channels. For more information on DisplaySearch analysts, reports and industry events, visit us at http://www.displaysearch.com. Read our blog at http://www.displaysearchblog.com and follow us on Twitter at @DisplaySearch.
About The NPD Group, Inc.
The NPD Group is the leading provider of reliable and comprehensive consumer and retail information for a wide range of industries. Today, more than 1,800 manufacturers, retailers, and service companies rely on NPD to help them drive critical business decisions at the global, national, and local market levels. NPD helps our clients to identify new business opportunities and guide product development, marketing, sales, merchandising, and other functions. Information is available for the following industry sectors: automotive, beauty, commercial technology, consumer technology, entertainment, fashion, food and beverage, foodservice, home, office supplies, software, sports, toys, and wireless. For more information, contact us or visit http://www.npd.com and http://www.npdgroupblog.com. Follow us on Twitter at @npdtech and @npdgroup.
Media Contact:
Stacey Voorhees-Harmon
SAVVY Public Relations
Phone: 925-336-9592
E-mail: stacey (at) savvypublicrelations (dot) net
###