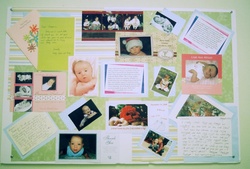 Medela products are the perfect fit for our customers, and we were so excited to be selected as the first Medela Certified Nursing Center in Texas in 2009.
Kingwood, TX (PRWEB) July 30, 2010
Medela, the world's leader in breastpump technology, human lactation research, and breastfeeding accessories has recognized Kingwood, TX-based Merry-Go-Round / My Little Juel for its outstanding commitment to nursing moms and to the Medela brand.
Medela's Partner Program is designed to reward accounts who achieve Medela's core values through best practices: educating moms on the benefits of breastfeeding and serving moms' needs through Medela product education, which includes education on a wide assortment of BPA-free breastfeeding products and breastmilk feeding accessories, intimate apparel, and breast pumps. Accounts meeting the qualifications for becoming a Medela Certified Nursing Center within the Partner Program are awarded a variety of tools to assist them in providing education and product knowledge to consumers, thus providing the best shopping experience.
"Everyone recognizes that Mother Nature has given within each mother the perfect food for their baby", says Mrs. Suzanne Juel, owner of the business, "unfortunately, sometime problems arise and you need to know where and how to get help."
"I now realize that my calling is helping mothers with breastfeeding," she adds, "and it's so rewarding knowing we help not just parents, but the next generation of children, getting them going with as healthy a start as possible."
The mothers who have benefited from the assistance provided agree. Stacey Krisswell, a local Kingwood mother, stated that "They not only saved me from continued trauma from bad latches, yeast problems, allergic reactions, and sensitive skin...they saved my sanity. They have been a continued source of comfort! I knew with the recent birth of my third child,…that if I needed help they were only a phone call away. I did end up needing help...again...and they were there!….I've yet to find a consultant to match..."
As a Certified Lactation Counselor, Mrs. Juel has been able to offer breastfeeding advice and support to mothers in the community for over seven years. In addition to advice and support, Merry-Go-Round & My Little Juel focuses on carrying the best products available for new and expectant mothers.
"Medela products are the perfect fit for our customers, and we were so excited to be selected as the first Medela Certified Nursing Center in Texas in 2009," said Mrs. Juel. I believe that the Medela Certified Nursing Center Certification has helped grow our business significantly in 2009. Being recognized as a Medela CNC helps identify us as being a knowledgeable resource for breastfeeding products in the Houston area.
"Merry-Go-Round / My Little Juel is a model for rental and retail accounts with a wide product assortment, as well as in-store lactation consultations, allowing moms to receive continual breastfeeding support," said Carolin Archibald, vice president of professional business sales and marketing for Medela.
"We're thrilled to honor their commitment to breastfeeding and will continue to help them provide Kingwood-area moms with the education, service and products they need."
Merry-Go-Round / My Little Juel services the Northeast Houston and surrounding areas. To find out more about Merry-Go-Round / My Little Juel, visit http://www.mylittlejuel.com or call (281) 359-7580.
About Medela
Medela provides the most technologically advanced, superior-quality breastpumps and breastfeeding accessories to nursing mothers around the world. A longtime champion of breastfeeding, Medela is the only company to develop products based on research by the world's leading lactation experts. As a result, Medela's breastpumps are the number one choice of healthcare professionals and healthcare facilities worldwide, including 80 percent of U.S. hospitals.
Medela has developed an extensive line of products to meet the diverse needs of nursing mothers. These products include hospital-grade, double and single electric and manual breastpumps; breastfeeding accessories such as pump cleaning products, breast care products and specialty feeding devices; and maternity and nursing intimate apparel.
Founded in 1961 by Olle Larsson in Zug, Switzerland, Medela continues to grow under the ownership of the Larsson family. Medela serves customers through a worldwide network of distribution partners in more than 90 countries and its 13 subsidiaries in the United States, Switzerland, Canada, Germany, Sweden, France, Benelux (Belgium, the Netherlands and Luxembourg), Italy, Japan, Russia, the United Kingdom, China and Spain. The company entered the United States more than 25 years ago; its U.S. headquarters are located in McHenry, Illinois.
###