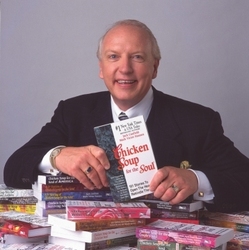 ...you're doing this great stuff with my hero Dr. Napoleon Hill, if he was alive, I'd suggest to you that I would be writing with Dr. Hill
Beverly, MA (PRWEB) July 29, 2010
CEO and founder of Orne Publishing, Steve Paris, was able to convince author of "Chicken Soup for the Soul" series, Mark Victor Hansen, to reveal some of his most closely guarded success secrets in this all-exclusive, one-on-one interview.
Of course nobody just wakes up one day as "the greatest selling author in human history". As one can imagine, it takes years of hard work and core values to accomplish such an amazing status and become such a prominent icon. Core values that were not only attributed through personal experience, but exact values that can be found in one of the greatest known works ever written on becoming successful - The Law of Success by Napoleon Hill.
This historical masterpiece is still considered a blueprint to personal success and financial abundance. Steve Paris recently found the only known copy still in existence of The Original 1925 Edition of The Law of Success. Up until now, only 118 original copies were made for people such as Henry Ford, Thomas Edison, and John D. Rockefeller who, like Hansen, admitted using this book toward accomplishing their personal achievements. Utilizing his publishing company, Mr. Paris made it his moral duty to republish this work in its purest form and make it available to the public.
To further expose this exciting, historical work, Orne Publishing has created an interview-style audio CD series entitled "Continued Success". Steve interviews CEO's and entrepreneurs on the Forbes 400 List all the way to millionaires hiding in plain sight, giving consistent encouragement to those reading the book as well as those who have already read the book. Mark Victor Hansen unveils his story as this month's highlighted guest on the CD series.
About Orne Publishing
For more information on how to obtain your own copy of this hard-covered collector's edition and to hear this exclusive interview with Mark Victor Hansen, visit our website.
Steve Paris is always looking for successful individuals to interview as a guest on his "Continued Success" audio series. If you are interested, or know of someone who may be interested, please contact Alex Dominguez.
# # #