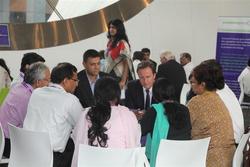 They started with billions of miles between them, they ended stunned at how little separated them
(PRWeb UK) July 28, 2010
Over the past three months the Common Purpose course has run in parallel in London and Bangalore, connecting both participant groups of up to 70 emerging leaders in both cities. The course is designed for emerging talent which, in both countries, has attracted a participant group age from around 25 – 40.
"They started with billions of miles between them, they ended stunned at how little separated them," says Julia Middleton, Chief Executive and founder of Common Purpose.
David Cameron participated in the course day, which was themed on the topic 'courage and caution'. The participants in the course have explored contrasting and shared leadership approaches to risk in the current economic climate faced by emerging leaders in the UK and India.
Participants in today's course in Bangalore were also invited to join the Prime Minister's Indian delegation for lunch prior to his announcement of the launch of the UK India Future Leaders Network, which will be delivered by Common Purpose.
The aim of UK India Future Leaders initiative is to expand, enrich and energise relations between India and the UK by investing in the next generation of leaders. The initiative will develop shared approaches to 21st Century political, economic and social challenges for emerging leaders in both countries.
"I am delighted to launch this new initiative at Infosys," says N. R. Narayana Murthy, Chairman of Infosys. "I hope it will persuade many more companies to ask their young leaders to take responsibility for the world that surrounds them."
Notes to editors:
About Common Purpose
Common Purpose is an independent international leadership development organisation. First established in the United Kingdom in 1989, Common Purpose has started up successfully in India, in Bangalore and Chennai, and now in Mumbai. The organisation has a fresh approach to leadership development and its independence, purpose and vision has captured the imagination of many young people in India and the United Kingdom.
Common Purpose leadership development courses are sometimes described as 'streetwise MBAs'.
Common Purpose's belief is that society benefits from people of all ages, backgrounds and cultures working together to help guide and shape the future of their organisations and communities. Because of this belief, Common Purpose courses are not only for senior level executives but for young and emerging leaders, as these individuals will be vital in creating positive and responsible change going forward.
Common Purpose is exciting for emerging leaders as they can gain the skills, knowledge and insight that will enable them to make responsible decisions, cross traditional boundaries and deliver complex change in ways that previous generations of leaders have struggled to.
There is a dynamic to Common Purpose's courses that is quite unlike any other brand of leadership development. Over the past 21 years, Common Purpose's course have provided leaders with a learning experience that is deeply ingrained in their local area so that they gain a comprehensive understanding of how society functions – and where it is broken – in the places where they live and work.
Leaders that take a Common Purpose course broaden their thinking beyond one sector or a single community, but they also find they develop a sense of their roots in the places in which they operate. This gives them a sense of responsibility locally and an understanding of the impact of their decisions and actions.
Common Purpose courses draw together people from many different backgrounds and from the public, private and not-for-profit sectors so that participants practice and become better at working together across traditional boundaries and divides and as a result, are more engaged in society.
The organisation operates in 11 countries around the world, including: France, Germany, Ghana, Hungary, India, Ireland, South Africa, Sweden, the Netherlands, Turkey and the UK. Common Purpose was started in India in 2008 and since then, has successfully delivered highly effective leadership development courses for young and established leaders in Bangalore and will soon launch in Mumbai.
Common Purpose will launch in Hong Kong in August 2010.
There are 30,000 Common Purpose alumni around the world and each year, 3,000 people complete a Common Purpose course. To attract the widest range of potential participants from a diverse range of backgrounds, Common Purpose provides approximately 600 bursaries a year for those who could not otherwise afford to attend.
When Common Purpose first launched in India, 500 leaders from across all sectors of the country responded that the idea behind this type of leadership development was highly relevant because:

There are difficulties of building effective collaboration across various sectors
Leaders in India want better and more diverse global networks
There is a concern that talent in India is increasingly disengaged from local communities
There is a need for disengaged communities to engage in the country's future growth
For further information on Common Purpose, visit: http://www.commonpurpose.org
About the Common Purpose International Navigator course
Common Purpose's International Navigator course is a leadership development course for high-potential people at the early stage of their career. The course day the Prime Minister visited was held at Infosys headquarters in Bangalore.
There are two groups of up to 70 participants taking the leadership course in parallel; in Bangalore, India, and London in the United Kingdom. Participants have worked in small learning groups in their own cities, and connected remotely with each other as part of a wider group.
The purpose of the course is to expand and enrich knowledge, understand barriers and opportunities for change, and the explore potential for a new generation of responsible leadership in both countries.
###