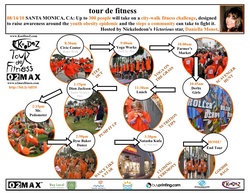 TDF has a far deeper mission than just focusing on health and wellness in the traditional sense...Tour de Fitness and the broader Passport to Wellness program give our local businesses an opportunity to be involved in two great causes
Santa Monica, CA (PRWEB) July 29, 2010
An army of green-clad families and youth slathered in sun block, wearing Accusplit pedometers will gather on August 14, 2010 for the 3rd Annual Tour de Fitness (TDF). Hosted by Nickelodeon's Victorious starlet, Daniella Monet, O2 MAX will be partnering again with KooDooz. Celebrity trainers, the Santa Monica Chamber of Commerce and health-conscious companies will band together for an interactive Santa Monica fitness march that serves to educate participants on the actions they can take to be healthy and fit.
According to Michelle Obama's Let's Move! campaign, nearly one in three children in the United States is overweight today and one third of the children born since 2000 will develop diabetes in their lifetimes. The campaign advocates healthy eating and being active, which are also the foundations of TDF.
Tour de Fitness began as a local guerilla marketing campaign to raise awareness on youth fitness and has since received several awards and recognitions: Best Guerilla Marketing Tactic by USC, recognition within the fitness industry, as well as a nomination for the best event from the Governor's Fitness Council. Tour de Fitness has grown to include the community and businesses at large as communities rally to spread the importance of youth fitness. O2 MAX is excited to not only partner with KooDooz, (a cause-based company for kids) for the second year in a row, but to also have the support of the Santa Monica Chamber and Buy Local of Santa Monica.
Students and families from dozens of schools in the Santa Monica school district, as well as local and national universities will gather at the Civic Center at Pico and Main Street. Host Daniella Monet will lead the marchers to the famous Colorado Boulevard for some ocean-side yoga with YogaWorks, followed by the ultimate Scavenger Hunt at the Famous Farmer's Market, workouts and activities led by celebrity trainers and instructors such as Dion Jackson, Natasha Kufa, the Angel City Derby Girls and a dance workout led by Ilyse Baker.
"Our Santa Monica businesses have always recognized the importance of being strong community partners," said Laurel Rosen, President and CEO of the Santa Monica Chamber of Commerce. "It's what makes them unique." "TDF has a far deeper mission than just focusing on health and wellness in the traditional sense," agreed Jennifer Taylor, Senior Development Analyst for the City of Santa Monica's Economic Development Department and member of the Buy Local Steering Committee. "It was their commitment to nurturing community pride and promoting a sustainable community that impressed the Buy Local Santa Monica Committee. Tour de Fitness and the broader Passport to Wellness program give our local businesses an opportunity to be involved in two great causes."
Registration is required and participants will receive free stuff including discounts from participating companies. Visit http://www.o2maxfitness.com for the agenda or contact 310-867-1650 for more information.
About O2 MAX Fitness:
O2 MAX is a youth fitness media company with a fitness studio based in Santa Monica. Its mission is to teach youth how to exercise and eat properly while preventing injury through the use of social media and dynamic programs. The founder, Karen Jashinsky, is a Certified Fitness Trainer and the first recipient of the First "Emerging Female Leader" Award by IHRSA, the fitness industry's professional organization. In 2007 she was also named "One of the 25 most influential young leaders in the fitness industry" by IHRSA. For more information please visit http://www.O2MAXFitness.com.
# # #