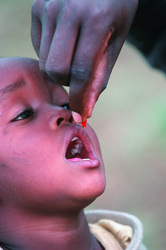 "It's amazing to realize how little it takes to fundamentally change someone's life."
(PRWEB) July 30, 2010
The Gift of Sight project is the first project in which the Jolica Foundation has partnered with cbmCanada, the world's leading development organization focused on rescuing, restoring and empowering people who are struggling to survive the downward cycle of poverty and disability.
By participating in Fair Trade home parties, Jolica Gift Consultants, Hostesses and Guests not only are able to support talented artisans in countries around the world; they are also able to provide the Gift of Sight. "It's amazing to realize how little it takes to fundamentally change someone's life. By providing sight we are able to give a father or mother their dignity back and their ability to earn an income. No longer does a child or other family member have to take care of them. The whole family's life is dramatically improved by providing sight," says Darlene Loewen, Co-Founder of Jolica.
At a Jolica party, guests are offered a selection of silver jewelry, alpaca and silk scarves and leather handbags that have been handcrafted by Jolica's Fair Trade artisan partners around the world. With every purchase, five percent is designated to the Jolica Foundation, which supports several life-changing projects.
While the hostesses appreciate the product benefits of their parties, making a difference in another woman's life is profoundly rewarding. Jolica Gift Consultants similarly are motivated by providing an income for their own families in a way that empowers families in India and other countries around the world. They appreciate the opportunity to live out their values.
For more details about this project or other Jolica Foundation projects or to view the Jolica catalog, visit the website.
###