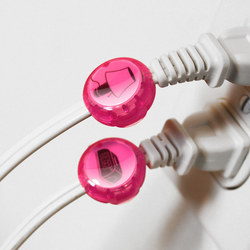 Minneapolis, MN (PRWEB) October 18, 2010
Dotz, a line of creative and colorful cord management products with the mission of ending cord chaos once and for all, is teaming up with the Breast Cancer Research Foundation© for Breast Cancer Awareness Month and donating part of the proceeds of any pink Dotz product purchased towards the fight against breast cancer. Also, if you purchase any package of pink Dotz product from DotzShop.com you will receive a free pink ribbon pen to show that you support the fight against this deadly disease on a daily basis!
Dotz is a new cord management system that integrates three simple products into one colorful, convenient and fun way to fight cord & cable clutter in the home or office.
Dotz Cord Identifiers get rid of the mess of tape, Velcro and twist ties. Dotz snap onto wires, visually marking their purpose with color and interchangeable preprinted icons. This icon and color based system creates a universally designed global solution that reaches across age, language and culture.
Dotz Cord Straps, are infinitely reusable straps that bundle and label multiple cords and cables by destination and purpose. Dotz Cord Wraps reduce clutter by shortening, storing and protecting wires for home, office and portable devices. These wraps can also be a great earbud or headphone case when you are on the go with your iPod or MP3 player.
The elements of the dotz cord management system are intuitive, reusable and easily customized to fit the consumer's needs. Retailers who carry the Dotz brand, such as Office Depot and Crate & Barrel, appreciate the simplistic innovation of Dotz and its eye-popping packaging.
Come see why we are having so much fun at http://www.cordotz.com!
805 Main Street, Hopkins, MN 55343 Phone: 952.345.1067 Fax: 952.345.1045 URL: cordotz.com
# # #