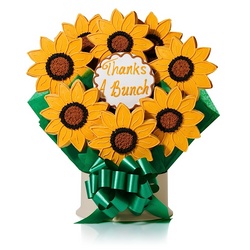 We have been using the Cookie Bouquets for "Thank You" gifts for our new clients. I just wanted to say "Thank You" to Personalized Gift Express for the excellent quality of the bouquets and the excellent customer service that your company provides.
Peculiar, MO (PRWEB) July 30, 2010
Personalized Gift Express announces the latest in their line of personalized gifts for all occasions, the Personalized Cookie Bouquet. Personalized Gift Express, a company specializing in personalized gifts for weddings, baby showers, birthdays and more, has a new product that is specifically designed for several different occasions.
The Personalized Cookie Bouquet is the perfect way to say Thinking of You, Happy Sweet 16, Number One Teacher, Get Well or Thank You. A bouquet of flowers and a sweet treat will make anyone's day and are available in a variety of sizes featuring three to twelve cookies. The gourmet bouquets are made daily, shipped the same day and carefully packaged to ensure they arrive safely on your doorstep.
The center cookie in the Personalized Cookie Bouquet can be personalized with the message of your choice, using up to 35 characters. The bouquet includes a gift card for adding your personal message to the recipient. Butter cream cookies in the shape of a bouquet of your choice for virtually any occasion are hand decorated. Personalized Cookie Bouquets featuring soccer, basketball, football, roses, tulips and hearts are just a few of the bouquets available.
Here is just a sample of what satisfied customers are saying about Personalized Gift Express:
"YOU ROCK!! Thanks so much - that is awesome! Can't wait to see them, you can be sure we'll be singing your praises, and using your company again (we do football and baseball year round.)" - Jill
"Thanks so much, I was very happy with the quality of my items, I will definitely order from you again in the future." Julie
"I only wish I had found your website sooner."
ABOUT PERSONALIZED GIFT EXPRESS
Family owned and operated, Personalized Gift Express opened on September 15, 2004. Their goal of providing the highest quality products at a price that is affordable as well as customer service of the highest standards is the foundation of their business. They have been members of the Better Business Bureau since December 12, 2007. In addition, they consistently research and develop new products to provide customers with the latest innovative personalized products available.
CONTACT INFORMATION
Online:
http://www.personalizedgiftexpress.com/contact.html
Telephone: 1-800-816-0922 (between 9 a.m. and 5 p.m. CST)
Personalized Gift Express
10904 East 243rd Street
Peculiar, MO 64078
# # #