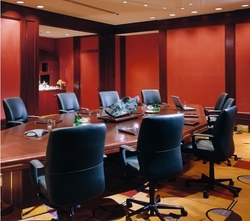 Vancouver (PRWEB) July 30, 2010
The Hyatt Regency Vancouver hotel today announced the launch of Meet and Be Green, a new program that encourages guests and planners to make green choices for their meetings. In order to Meet and Be Green at the Vancouver, British Columbia hotel, planners and meeting attendees will pledge to take these ten steps to "go green" during their meeting:
Recycle during the meeting
Use products with 100% recycled content
Print materials locally
Minimize shipping
Rather than setting materials at every seat, place meeting materials, such as handouts, notepads, pens, etc., in a central location so attendees can take as needed
Maintain room temperatures at an appropriate level
Eliminate disposable water bottles
Minimize use of other disposable products such as plates, cups, napkins, and utensils
Select locally grown seasonal foods when planning the menu
Plan ahead for the meeting to make it easier and more economical to keep the meeting green
Dedicated meeting planners at the Vancouver hotel will help source products with 100% recycled content, find local suppliers, and maximize efforts to reduce waste to create a meeting experience that exceeds expectations and helps the environment at the same time.
For new meetings booked by December 30, 2010, and held by March 31, 2011, groups participating in the Meet and Be Green program at Hyatt Regency Vancouver will be eligible for a 3% rebate on qualifying charges on the master bill.
Meet and Be Green is one of the latest additions to Great Happens, Hyatt's ongoing campaign to emphasize the power and importance of in-person meetings.
In addition to the launch of Meet and Be Green, the Vancouver hotel recently introduced new seasonal banquet menus. These menu selections are updated quarterly and provide food and beverage enhancements for meetings and events that feature items from local and regional farmers, fisherman and cheese makers.
The Vancouver, British Columbia hotel has also partnered with Bullfrog Power, Canada's 100 per cent green electricity provider since January of 2010, to utilize wind power from Bear Mountain to power all of its meeting rooms. Bear Mountain is the first renewable energy project in B.C. to deliver EcoLogoM-certified wind power to the regional grid. "Partnering with Bullfrog Power to reduce the environmental impact of the electricity we use in our facilities is core to our long-term environmental strategy," said Steve McNally, General Manager, Hyatt Regency Vancouver. "More than ever, our customers are asking about our environmental commitments and actions. Supporting green electricity is an important step in our implementation of more sustainable practices."
To discuss Meet and Be Green options, meeting planners should contact the Hyatt Regency Vancouver sales team at 604-639-4851 or submit a RFP.
About Hyatt Regency Vancouver
Hyatt Regency Vancouver, a 644-room hotel, is located in downtown Vancouver, British Columbia, Canada. It features the city's most spacious guestrooms, all completely renovated with LCD tv's and gentle-rain showers, award winning Mosaic Bar & Grille and 45,000 square feet of function space including the state-of-the-art Regency Ballroom. Reservations for Hyatt Regency Vancouver may be made by calling 800-233-1234 or visiting http://www.hyattregencyvancouver.com
# # #