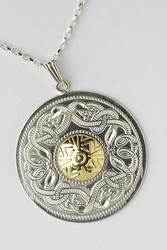 (Vocus) July 29, 2010
Celtic Jewellery Site specializes in authentic Celtic jewellery and carries gold and silver Celtic rings, pendants, bracelets, and earrings. A majority of the jewellery comes directly from Ireland and has been hallmarked from the Dublin Assay office as the customer's assurance of the highest quality. Celtic designs are available including Knotwork, the Claddagh, Gaelic Script, as well as a collection of Warrior Shield jewellery. Considered to be Ireland's foremost treasure, the Ardagh Chalice was the inspiration behind this design.
It was September of 1868 when the Ardagh Chalice was discovered. Jimmy Quin and Paddy Flanagan were digging for potatoes inside a ring fort near Ardagh when their spade struck a hard surface. After clearing away the dirt, they discovered what is now referred to as the "Ardagh Hoard". This valuable collection of items included a small bronze chalice, four ornate brooches, a wooden cross and the prized item now known as the Ardagh Chalice. All of the items are believed to date from the 8th to 10th century.
The Ardagh Chalice is 6" high and is made of silver, bronze, and gold. It is made up of 354 separate pieces. The design and decoration is very intricate and suggest that a wide range of materials were used to create it. Engraving, casting, filigree, and enamelling were all methods that were used. It was clearly the work of a master craftsman. It is very well proportioned and the detailed work shows the skill and time that it took to create. The bowl, made up of 2 hemispheres, is silver with ornate handles. A gilded band links it to a conical silver foot. The chalice is decorated with scrolls, interlacing, plaits and frets. There are panels of animals and birds as well. Semi precious stones and enamels decorate it. The names of the Apostles appear below the gold filigree band. The Ardagh Chalice is now safely kept at the National Museum of Ireland. It is considered to be the "Jewel in the Crown" of all exhibits there. Many consider it to be the finest example of 8th century metalwork to have been discovered.
The Celtic Warrior Collection of jewellery was inspired by the Ardagh Chalice. The various pieces consist of silver and gold fused together to create a collection that combines the past with contemporary designs. There are two dozen Warrior Shield rings available in silver, white gold, and yellow gold. Various band widths are available with or without trims. Many designs are available in matching mens and ladies rings that make beautiful wedding bands. Some of the Warrior rings have diamonds on the beadwork adding to their beauty and value.
Warrior shield pendants make great accessories for men and women. Many pendants are available in sterling silver and gold or a combination of silver with a gold bead. There are single and triple warrior pendants as well as a Celtic Cross with warrior shield design. There are also matching dangling Warrior Shield earrings.
For both casual and formal outfits, Warrior Shield Bracelets and Bangles make perfect accessories. With round and oval shields, the bracelets are available in silver and gold. The bangles have various sizes of shields available in silver and gold. Warrior Shield brooches also make great accessories.
There is also a Warrior Shield collection of cufflinks and tie tacs available. In silver, gold, and combinations of the two, there are mens accessories for every occasion.
Visit http://www.CelticJewellerySite.com to see the Celtic Warrior Shield jewellery collection, Gaelic script jewellery, Claddagh designs and Irish rings. Each purchase is beautifully boxed and includes a card outlining the meaning of the designs.
###