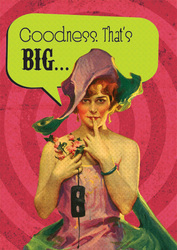 ...industry experts seem to love IMproper Greetings as much as our customers do.
Birmingham, AL (PRWEB) July 29, 2010
Seek Publishing's new greeting card line, IMproper Greetings, has won one of the highest possible accolades from the retail industry. IMproper Greetings has been named a Top 10 Product by Canada's CGTA and Retail News magazine. It is the only greeting card line and the sole U.S.-manufactured product to receive the honor.
Each year, the CGTA, one of the largest and most significant trade associations in Canada and the pulse of the nation's $10-billion giftware industry, awards 10 new products the distinction of Top 10 Product. A panel of the country's most successful giftware retailers judges the competition on visual appeal, product design, originality, innovation and marketability.
Retail News magazine describes the card line as "laugh-out-loud hilarious" and "wickedly funny." Each of the all-occasion cards features authentic 1920s advertising art, updated with hip, vibrant colors and paired with irreverent messages and sentiments.
"We are thrilled and honored by this award," says Seek CEO Jeff Logan. "And we are very proud that this fun new product has been recognized for its creativity and quality, as well as for its salability. It's particularly gratifying to know that the industry experts seem to love IMproper Greetings as much as our customers do."
IMproper Greetings can be found at gift and card retailers across North America. Other Seek Publishing product lines include nostalgic 24-page "KardLets," Yearbook, Remember When and Pages of Time, which are popular birthday and anniversary/reunion keepsakes. The company, owned by former Time Inc. executive Don Logan and his sons Jeff Logan and Stan Logan, is headquartered in Birmingham, Alabama, USA.
###