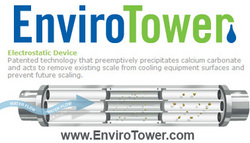 The Green Schools Pilot Initiative provides us with a unique opportunity: to help schools and communities save operating funds while protecting the environment and a critical resource, clean water.
(PRWEB) July 29, 2010
EnviroTower, pioneer in environmentally friendly cooling tower water treatment, is pleased to announce that it has entered into agreements with six Ontario School Boards for a total of $1.7 million under the Green Schools Pilot Initiative. The Green Schools Pilot Initiative is a joint venture between the Ontario Ministry of Education (MOE) and the Ontario Ministry of Research and Innovation (MRI). It provides funding for the development and demonstration of clean technologies that deliver economic, environmental and health benefits to Ontario schools and reduces their environmental footprint.
The Ministry of Research and Innovation developed an evaluation matrix to determine which technologies to recommend to the MOE. EnviroTower ranked among the highest scoring companies defined by the MRI to be specifically beneficial to the sustainability improvement goals of the Ministry of Education. For EnviroTower, the project will serve to advance the company's technology as it demonstrates at an enterprise level its innovative process monitoring system and patented electrostatic water system treatment technology for cooling water applications.
"The Ontario Green Schools Pilot is an excellent example of how the Ministries are working with Ontario start-up businesses that offer technologies that help protect the environment here in Canada and around the globe. Demonstrating this technology in Ontario will surely open doors for our business here and abroad, providing us the opportunity to grow faster than otherwise possible," says Paul Wickberg, CEO, EnviroTower, Inc.
EnviroTower's patented water treatment system provides a sustainable, economical alternative to traditional chemical treatment for water cooling systems in the institutional and commercial market sectors. EnviroTower's approach provides total control of scale and corrosion, resulting in an exceptionally clean system that dramatically reduces energy and water consumption and eliminates toxic water discharge.
It is estimated that up to 20% of a facility's electricity consumption and 30% to 40% of water consumption is from its water cooling system. It is anticipated that the EnviroTower water conditioning system will reduce this consumption by up to 18%, representing an attractive return on investment while significantly reducing the environmental impact of higher water, energy, and chemical use.
For the Green Schools Pilot Initiative, the EnviroTower program and systems, installed in 23 schools across six school boards, are applied over a wide range of cooling tower application sizes from under 100 tons to over 700 tons and for varying supply water qualities. Measurement and verification of system performance is being provided by EnviroTower and OCETA, The Ontario Centre for Environmental Technology Advancement, an independent third party.
"This Pilot Initiative provides us with a unique opportunity: to help schools and communities save operating funds while protecting the environment and a critical resource, clean water," explains Scott Beckett, Vice President Sales and Marketing, EnviroTower, Inc. "These schools will see significant advantages with EnviroTower's physical water treatment system and saved water treatment funds can then be applied directly to improving what those schools were built for, which is more critical now than ever before: education."
Beckett lists such EnviroTower advantages as:

Water saved: cooling systems will run cleaner so water can be re-used or re-circulated more often
Energy saved: the water and system itself is cleaner and will run more efficiently
Environmental protection: discharge water is much lower in volume than conventional systems and is cleaner, containing no toxic chemicals as other systems do
Funds saved: the discharge water from our systems does not have to be treated by municipal water treatment plants (which is an additional cost to the community) and can be reused for agriculture or 'grey-water' purposes (fountains, toilets, etc.)
Details about the innovative cooling tower water treatment system and applications can be found at EnviroTower.com or by contacting Scott Beckett, Vice President Sales and Marketing at:
EnviroTower, Inc.
380 Adelaide St. W.
Toronto, ON M5V1R7
Email: info(at)EnviroTower(dot)com
Phone: 1-877-386-9371
About Paul Wickberg, CEO, EnviroTower, Inc.:
With more than 20 years of business leadership and senior management experience, Paul Wickberg brings to EnviroTower a proven track record of driving rapid growth and value creation for technology start-ups as well as Fortune 200 organizations. Most recently, as President and COO of Verisae, Inc., a provider of energy and asset management software, Paul grew the company from startup to multi-national status in just 4 years. Prior to Verisae, Paul oversaw multiple divisions as President, Emerson Climate Technologies Solutions. He took this position after Emerson's acquisition of Computer Process Controls, where he was the President and one of the original founders.
###